Hannah's Headlines- 6/13/2017
Chef Boyardee Spaghetti and Meatball Products Are Recalled
In case you missed it, Conagra Foods, the maker of Chef Boyardee products is recalling more than 700-thousand pounds of pasta due to a labeling error. The USDA says the problem was discovered on June 6thby the company.
Apparently, an ingredient supplier noticed the bread crumbs used in various spaghetti and meatball products contained milk and this was not disclosed on the packaging.
There are no confirmed reports of illness to the mislabeling, but the USDA is urging consumers to throw away the recalled products as a precaution. You know, unless milk isn't an issue for you…and you're really hungry. But seriously, check out more details on the recall HERE.
Source: USDA
Astronauts Will Become Bakers In Space-Since trips to Mars aren't that far away, one little detail has to be ironed out: how good is baking is space?
Astronauts spend months in space in the name of science. Now science wants to give them a better sandwich. A German team is behind "Bake in space," an effort to find a way to bake tasty rolls in microgravity. Right now, astronauts use tortillas for their sandwiches because regular bread tends to crumble, and crumbs have the potential to wreak havoc on multi-million dollar space station systems.
The problem is that bread that doesn't produce crumbs doesn't tend to taste very good. The effort to bake space bread will take the challenge to the International space Station during an upcoming mission.Source: Digital Trends
Today is...NATIONAL CALL YOUR DOCTOR DAY – NATIONAL RANDOM ACTS OF LIGHT DAY – NATIONAL KITCHEN KLUTZES OF AMERICA DAY – NATIONAL SEWING MACHINE DAY – NATIONAL WEED YOUR GARDEN DAY
*LIST* Food Facts You'll Freak Over
Consider yourself a foodie? Here are some surprising facts about everyday foods that you probably never knew about:
Strawberries - They're not actually berries at all and are

members of the rose family. And so are apples, pears, apricots, cherries and peaches.
Ice cream - Vanilla ice cream is often flavored with castoreum, which is extracted from the rear end of a beaver.
Cashew nuts

- They grow on tropical trees that are native to Brazil, but most cashews are imported from Vietnam, India, Nigeria and the Ivory Coast. And these nuts don't just grow on trees, they grow on the tops of apples in the trees.
Bell peppers - The red, green, and yellow bell peppers are all the same, the colors just indicate how ripe the veggie is. Green is the least ripe, which is why it's not most people's favorite, yellow is in the middle and red is the most ripe and that's why it's sweetest.
Peanuts

- They're not a nut at all, they're actually legumes, like peas and lentils.
Pretzels – These actually began are a religious food, created by a monk, who knotted them to look like arms crossed in prayer.
Oysters

- To serve these when they're as fresh as possible, restaurants try to source them on the same day they're served. And if they haven't been out of the water for long, they're probably still breathing, which means they're definitely

fresh and have less chance of harmful bacteria forming.
Source: Daily Mail
FBI searching for Dollar Store Bandit: The FBI is on the hunt for someone who doesn't believe in going big or going home. An unidentified man is in the midst of a rash of Dollar Tree store robberies. So far, he's hit nine stores across the country, earning himself the nickname the Dollar Store Grandpa Bandit. No word on how much money he's made off with, but he allegedly forces employees into back room with a weapon after getting them to empty the registers and the safe. They say he then takes their cell phones so they can't call the cops. So he may look like a nice grandpa, but he's one creepy jerk. Source: WXYZ
So, You May Have Been Pronouncing Reese's Wrong This Entire Time . . .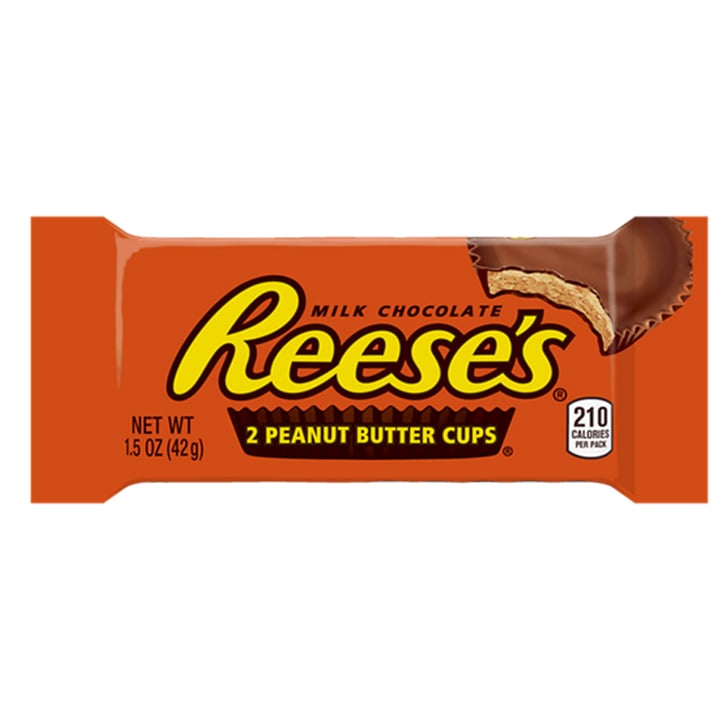 How do you pronounce Reese's? Do you say "Ree-sis" or "Re-sees"? Well, it turns out that this is truly a hot topic debate, and we're here to settle it for you. While some people swear the proper pronunciation of the beloved chocolately peanut-butter candy is "Re-sees," the truth is it's actually "Ree-sis." Yes, if you're one of those "Team Ree-sees" people, then you've been saying it wrong this entire time.
Spoon University recently dug up an old Reese's commercial to further prove this point. In the clip, the brand is pronounced as "Ree-sis" as well.
RelatedReese's Basically Stuffs Oreos in Its Newest Peanut Butter Cups!
This all makes sense if you take into account the history behind the name. Reese's was named after Harry Burnett "H. B." Reese, a businessman who worked for the Hershey Company in the early 1900s. Still intrigued by it all? Discover 7 other fun facts about Reese's that might surprise you.
TOMORROW- BOGO at Chipotle for nurses!
Just bring your nurses ID to any Chipotle in the U.S. on Tuesday, June 14th, 2017, and we'll treat you with A BUY-ONE/GET-ONE FREE BURRITO, BOWL, SALAD OR ORDER OF TACOS.
25 D**chey Things You Don't Know You're Doing
YOU KEEP BABBLING ON ABOUT YOUR FANTASY TEAM.Oh yeah, you played Steph Curry and Kevin Durant last night? Impressive foresight there, bud. It's hard enough to keep track of our own fake rosters. Nobody cares about yours.YOU CALL PEOPLE NICKNAMES LIKE "BOSS" AND "CHAMP."People don't even call their bosses "boss." You're allowed to call The Rock "The People's Champ," but that's it.YOU HAVE THESE NUTS HANGING FROM THE BACK OF YOUR TRUCK.Women think you're compensating. Other guys want to give 'em a swift kick.YOU KEEP THE STICKERS ON YOUR FLAT-BRIMMED HAT.We know how much it costs. We've been to Lids.YOU BRAG ABOUT NOT HAVING CABLE.Go ahead and save money. Just don't make the rest of us feel bad for watching Treehouse Masters.YOU GRUNT WHILE DOING ARM CURLS.If you're a powerlifter moving some serious weight, it makes sense. Otherwise, save the sounds for your bedroom.YOU TAKE SELFIES IN THE BATHROOM.Ever look into a man's face after he's dropped a load? It ain't exactly flattering.YOU TIP THE BARE MINIMUM.In case you're wondering why it's taken 20 minutes to get your second drink...YOU WEAR YOUR SUNGLASSES INSIDE—OR WORSE, AT NIGHT.You're not Jack Nicholson, and you're (probably) not Corey Hart.YOU'RE A NAMEDROPPER.Hate to tell you, but your CEO buddy met 300 other guys at that networking event last month.YOU WEAR SLEEVELESS JERSEYS TO NBA GAMES.What, you think Coach is gonna ask you to suit up?YOU KEEP EMPTY LIQUOR BOTTLES AND DISPLAY THEM LIKE TROPHIES.Aren't they just reminders of awful hangovers?YOU TEXT DURING DATES.Have fun watching porn on your iPhone tonight.YOU GIVE SPOILERS WITHOUT WARNING.Let us be disappointed by Homeland at our own pace, okay?YOU WEAR A CELL-PHONE HOLSTER.Oh, dude. No.YOU ASK YOUR FRIENDS TO WATCH "THIS SUPER-QUICK, SUPER-FUNNY VIDEO ON YOUTUBE."It's the longest, least funny video on YouTube. Guaranteed.YOU SING OLD INDIE SONGS AT KARAOKE.Drunk people don't want The Smiths. They want Journey.YOU GIVE UNSOLICITED ADVICE.That's what Dr. Phil is for.YOU INSTAGRAM EVERYTHING YOU EAT.That 37th photo of your eggs belongs in the friggin' Louvre.YOU SIGN YOUR EMAILS, "CHEERS."$50 says you've never been to England.YOU STILL CALL SHOTGUN.If you want to pick the tunes, drive yourself.YOU WEAR THE SHIRT OF THE BAND YOU'RE THERE TO SEE.It's kind of implied.YOU STILL QUOTE BORAT.Let it go. Even Sacha Baron Cohen has moved on.YOU BUY JEANS WITH HOLES IN THEM.We would have ripped 'em up for free.YOU TAKE THE LAST SLICE.Hey, we were going to eat that!
Link: http://www.menshealth.com/guy-wisdom/25-douchey-things