Hannah's Headlines- 11/14/2017
Ugg Boots May Cause Knee Damage-Choose your everyday boots carefully or your knees could pay the price.
Experts warn that soft boots like Uggs don't offer enough support and may lead to a bad posture, knee pain and even back pain, which could need surgery. By the way, the longer you wait to see if your knees are okay, the more damage is done. The fix is to get an exam and imaging.
If you already have back or other structural issues, you may want to opt for a more supportive shoe.
Ugg responded with this release: "UGG is the leader in premium sheepskin footwear. The UGG Classic boot provides the full experience of warmth, comfort and flexibility.Source: Sun
Have You Ever Worked Out While Intoxicated? Drunk Yoga?
One yoga instructor in New York is offering up evenings of tipsy yoga. Why? Because "one is more flexible when drunk." Eli Walker teaches a basic vinyasa class alongside an open bar with unlimited wine at Grey Lady in lower Manhattan. For $30, students get an hour-long yoga class, and as much of the good stuff as you can stomach while attempting to hold a crow pose. "For those of you who are hesitant to try yoga for fear of 'looking silly,' this class is for you," the official Facebook page beckons. "Come, drink wine, try yoga with other beginners, and by all means…look silly!"
What other workouts would you like to try intoxicated?
Link: https://nypost.com/2017/11/13/drunk-yoga-makes-students-flexible-with-liquid
These Restaurants Will Be Open This Thanksgiving
'Tis the season for turkey, mashed potatoes, stuffing, cranberry sauce and all the fixins'. Regardless of how it gets to your table — homemade or store-bought — there's no denying that the Thanksgiving feast is the best meal of the year. If you're away from home or simply want to step away from the kitchen, these restaurants have decided to keep their doors open just for you (and, well, the rest of the country).
IHOP
Head to IHOP before you hit the road to Grandma's house and treat yourself with their seasonal favorite, Pumpkin Spice Pancakes. Hours may vary by region.
Boston Market
You can always count on Boston Market to help you when you're in a pinch — or if you're feeling lazy. Their to-go meals are an easy way to get your turkey fix without the hassle. Best of all, if you order your box from by November 19, they will deliver it to your door in time for Turkey Day. Of course, you can always eat in the restaurant if you don't want to deal with any cleanup.
Waffle House
This popular breakfast chain claims to be open 24/7 — and Thanksgiving is no exception. Take your pick — breakfast, lunch or dinner — and leave the cooking up to them.
Applebee's
Select Applebee's locations are offering a special Thanksgiving meal, complete with turkey, mashed potatoes, gravy and garlicky green beans. Check with your local Applebee's to see if they'll be open.
Cracker Barrel
Heat and serve — that's Cracker Barrel's Thanksgiving philosophy. Order your feast ahead of time, pick it up starting November 21 and heat the food accordingly.
Denny's
Another Grand Slam for Denny's! You can eat breakfast before the holiday festivities begin, indulge in the classic Turkey dinner or get your grub on in the wee hours of the morning before Black Friday shopping hits. Select regions offer online order and delivery — yes, you might not even have to leave your house.
Legal Sea Foods
Skip tradition this year and enjoy a delicious fish dinner instead of the traditional roast. Fret not: Legal Sea Foods also offers a classic Thanksgiving dinner for $24.95 a person and $8.95 for children 12 and under. Reservations are recommended.
Ruby Tuesday
Craving french fries instead of a side of mash? Ruby Tuesday has what you're looking for. Participating Ruby Tuesday locations will be serving the regular menu during normal business hours.
Maggiano's Little Italy
Pasta and potatoes — now that sounds like a dream. Maggiano's Little Italy offers a four-course Family-style dinner that includes bruschetta, salad, your choice of entree, two classic Thanksgiving sides, two types of pasta and of course, dessert. It's up to you: You can dine in or eat it in the comfort of your home. Meals are $49.95 a person ($17.95 for children) and the carryout package is $200. Tables fill up quickly so reservations are highly suggested.
Friendly reminder: When heading out to grab food on Thanksgiving, always remember to call your local chain to double-check whether or not the restaurant is operating on holiday hours. While these restaurants all claim to be open, specific hours of operation vary by region.
It's safe to say that you'll be eating well this year — no matter if you eat at home or on the road.
These 26 Life Hacks, Involving Everyday Objects, Are Actually Pretty Doable
1.
About those paperclips you never actually use for paper: clip them to your fridge shelf to keep your beers from rolling around.
2.
Come to think of it, those clips are actually pretty darn useful for things like toothpaste...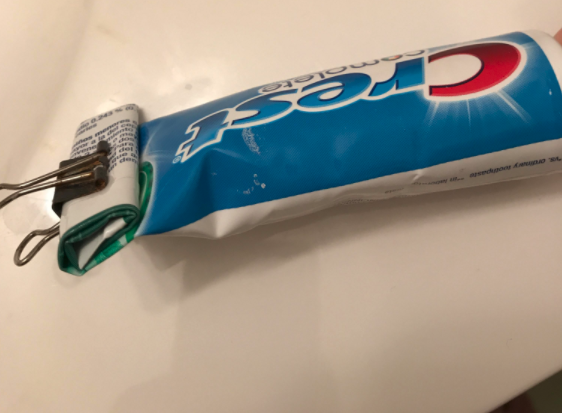 3.
And even loose cords...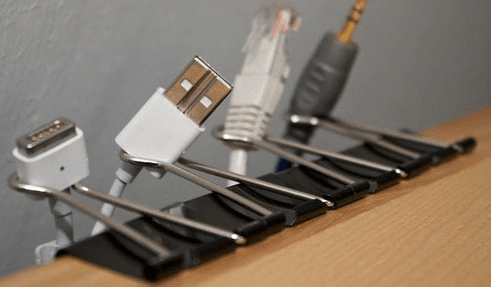 4.
Though nothing could be nearly as fun as this Lego-inspired solution: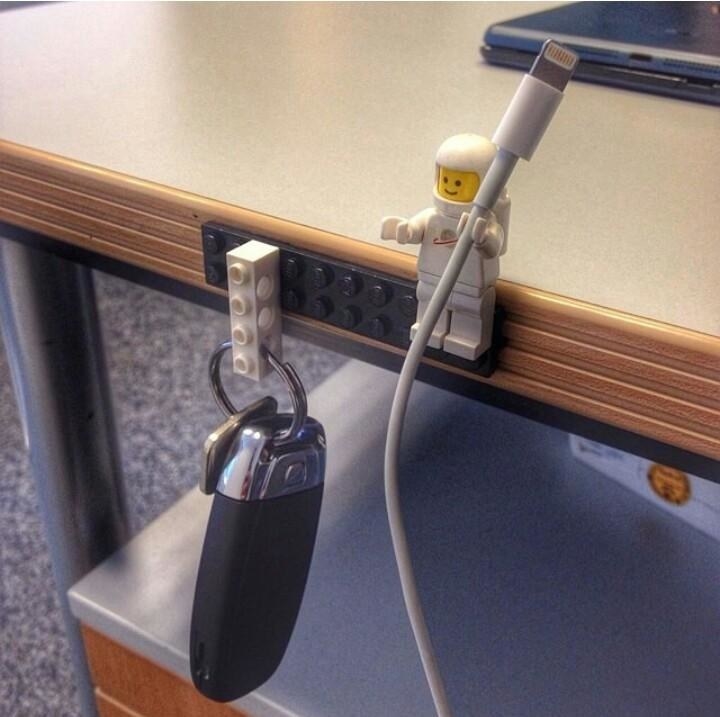 5.
We also suggest enlisting the lowly toilet paper tube for more cord storage.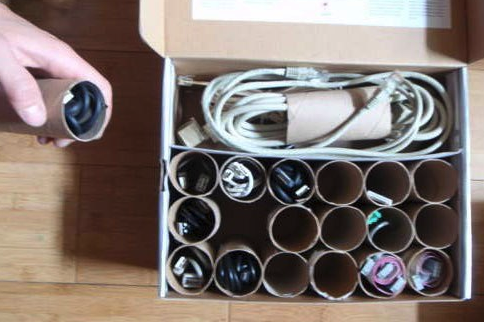 6.
And you can use the coil spring from a pen to wrap around any split or torn iPhone cables.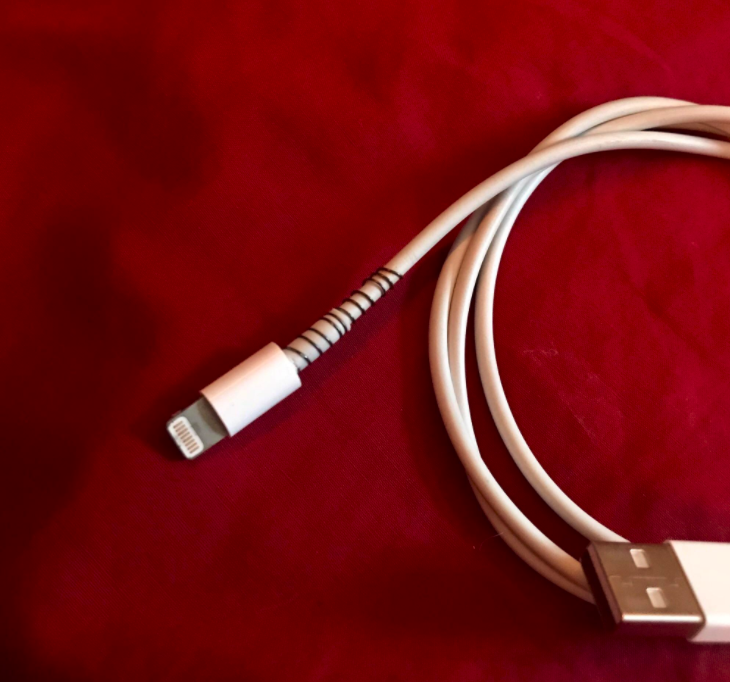 7.
Large candles are expensive, but beautiful to have around. So extend their "life" with tea candles!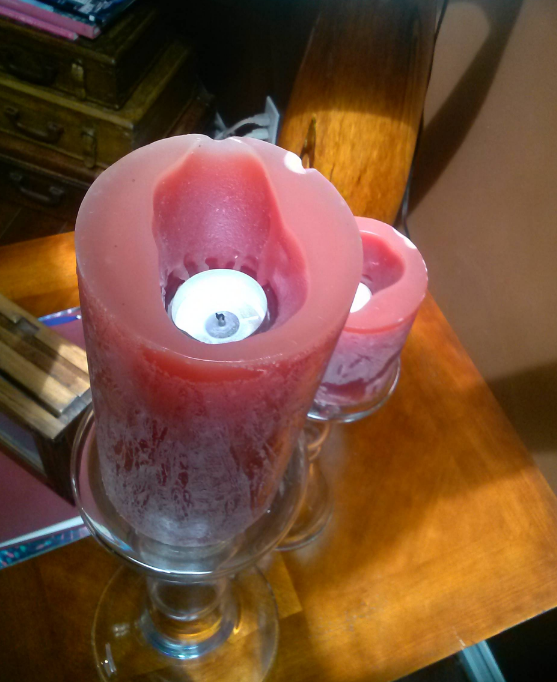 8.
Another candle pro tip: Use a strand of uncooked spaghetti to light the ones with hard-to-reach wicks.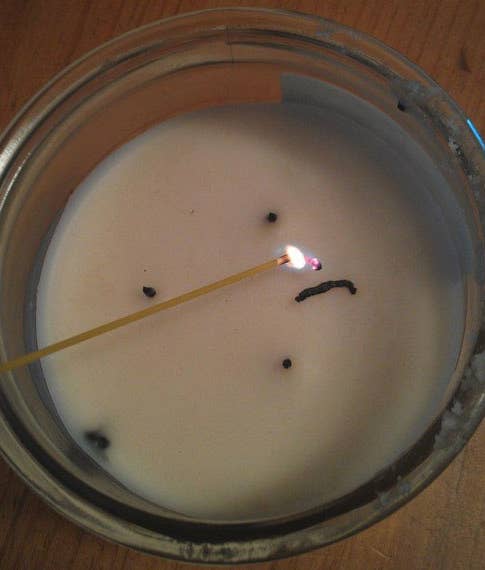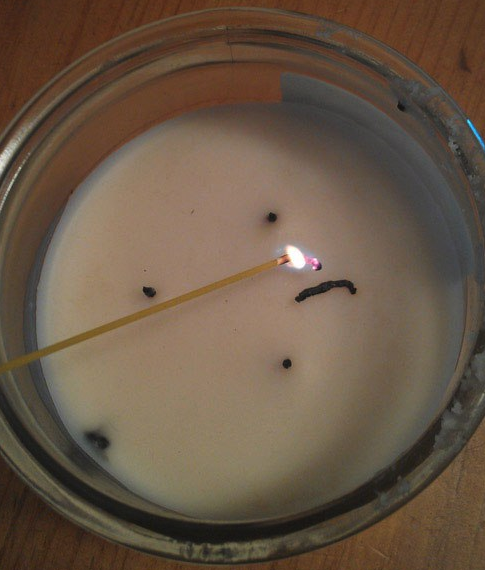 9.
Speaking of which, a Pringles can makes for the perfect pasta storage system.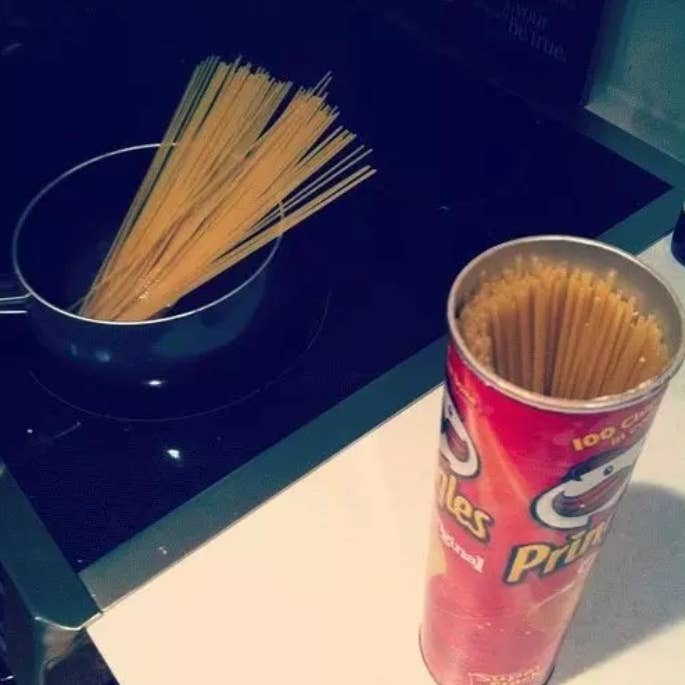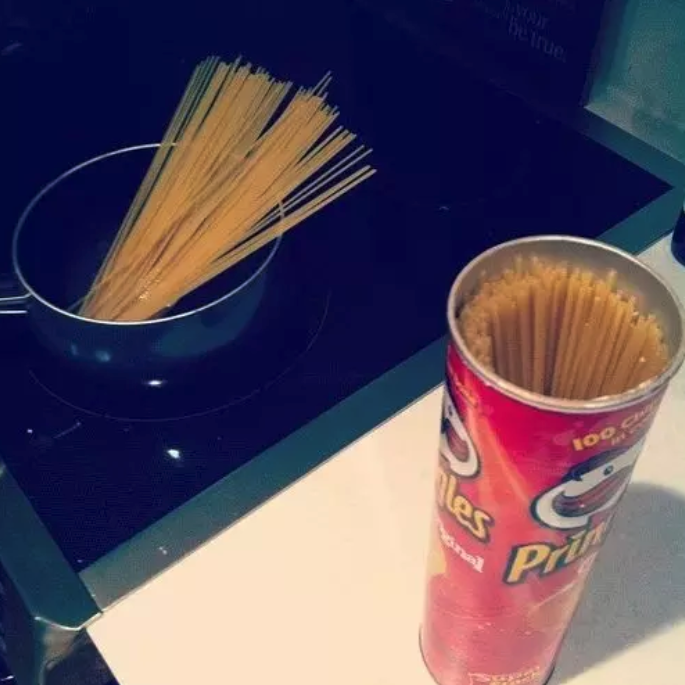 10.
And speaking of Pringles, you can create a little sleeve out of paper to keep all the chips from sliding out at once.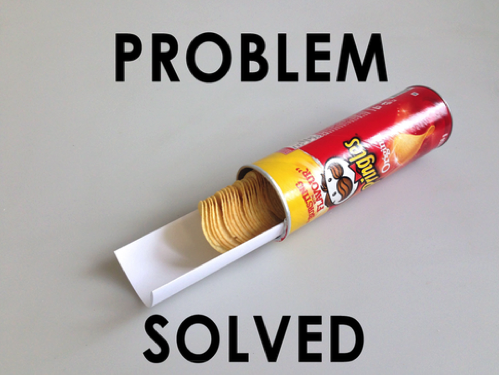 11.
Grocery runs just got a lot more manageable with a carabiner to help carry all those bags.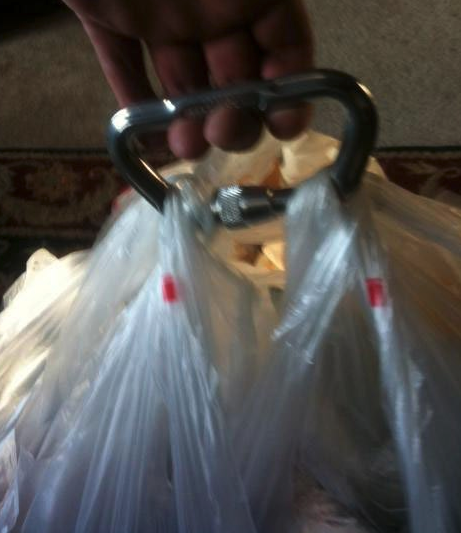 12.
And if you're short a bottle opener, your Mac charger actually can get the job done.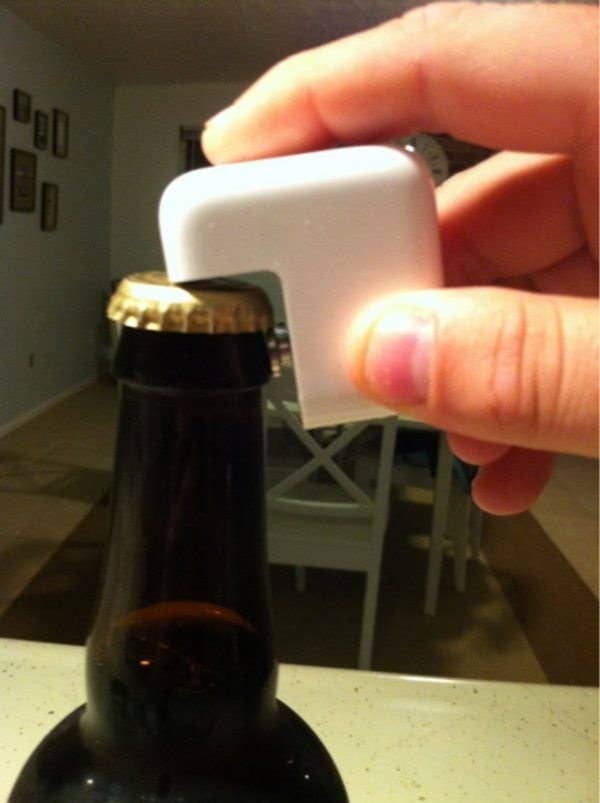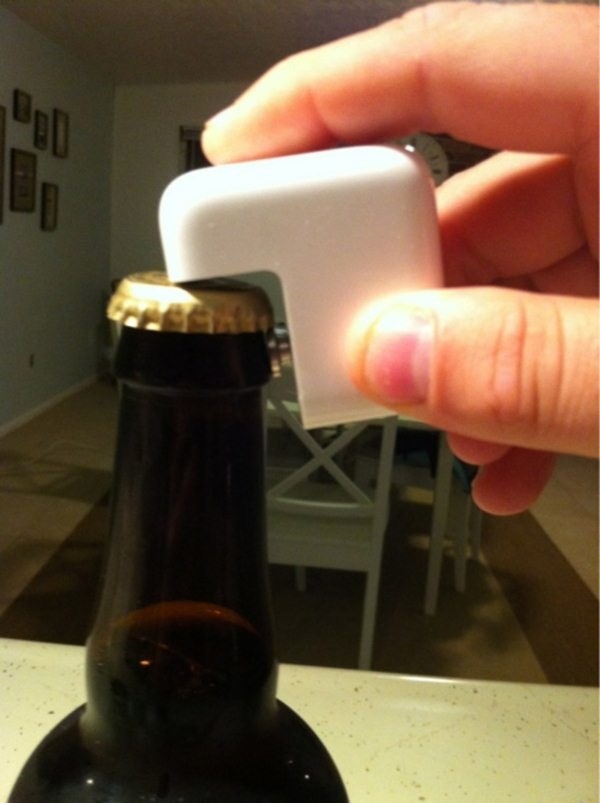 lol most expensive bottle opener ever IMO, but that's me.
13.
If you need to chill a bottle of beer super fast, wrap it in a wet paper towel before sticking it in the fridge.


BuzzFeed / Twitter: @Inte
14.
And if you need to drill something but don't want to deal with the mess, put a Post-It underneath so that it collects the dust.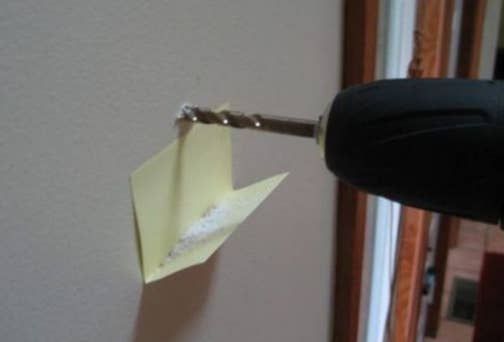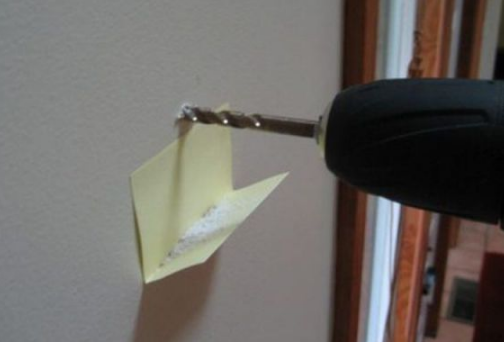 15.
Here is a very free way to steam your shirt: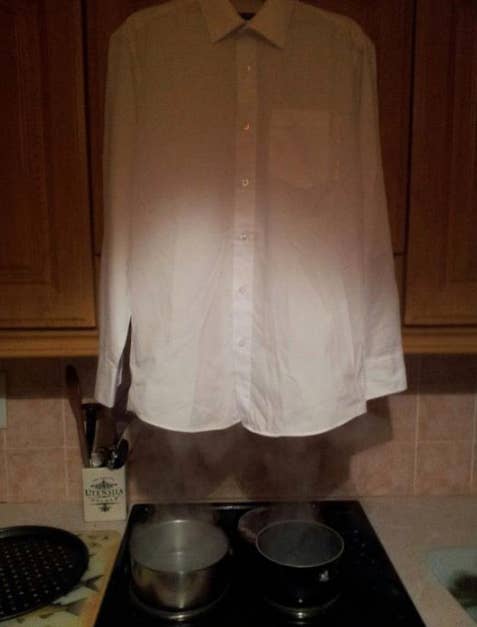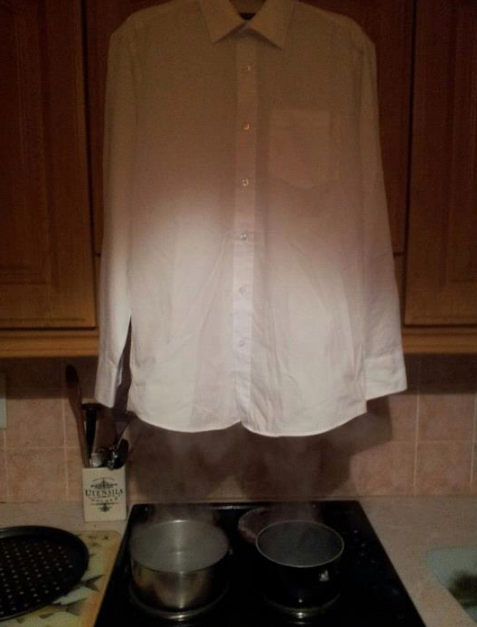 16.
And here is one option if you need AA batteries but only have AAA...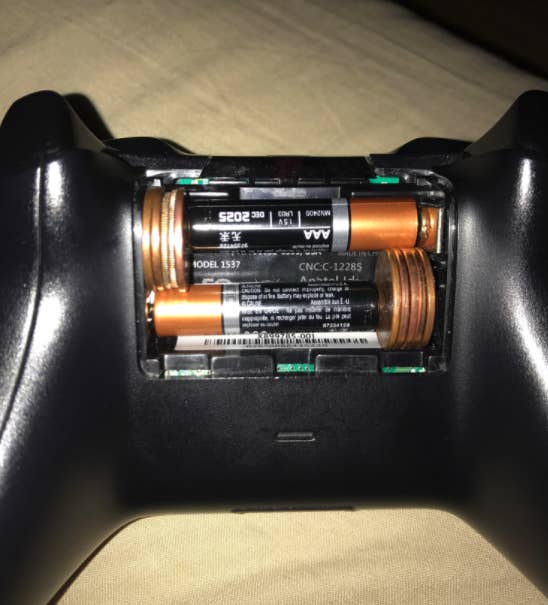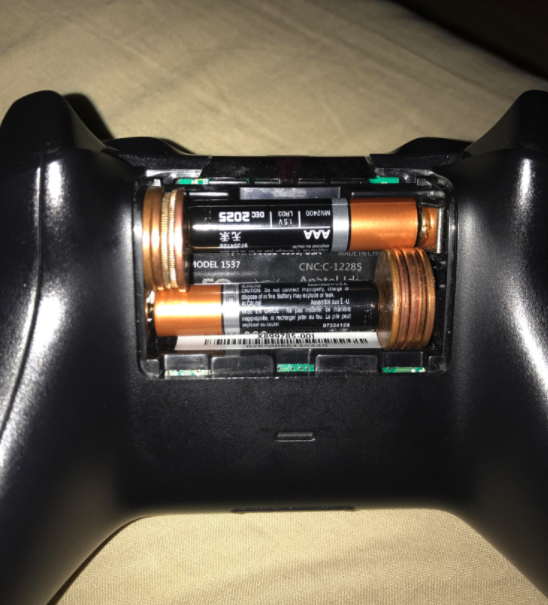 17.
Shower rings can help make a Super Hanger to clear up space in your closet...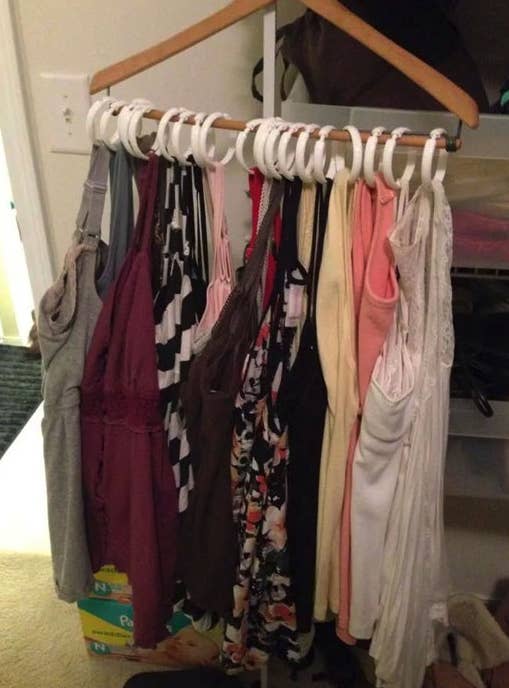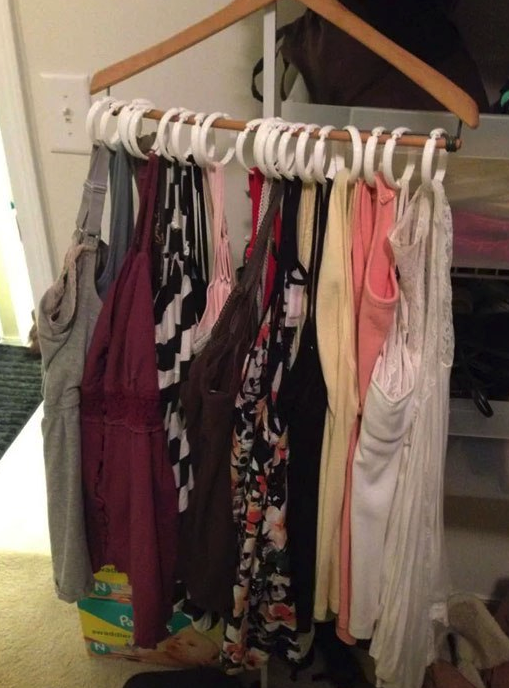 18.
And command hooks can keep your trash can liner from falling in...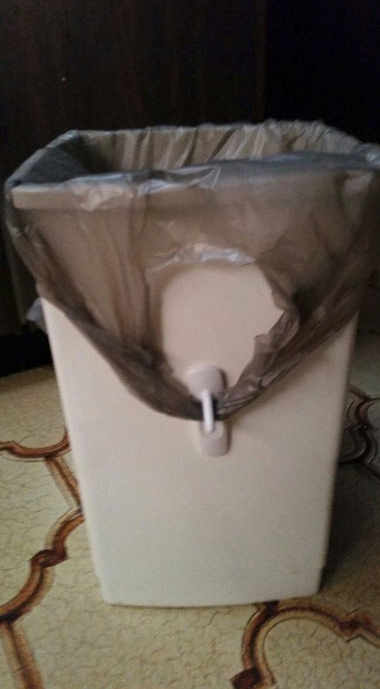 19.
AND organize the lids to all of your pots and pans.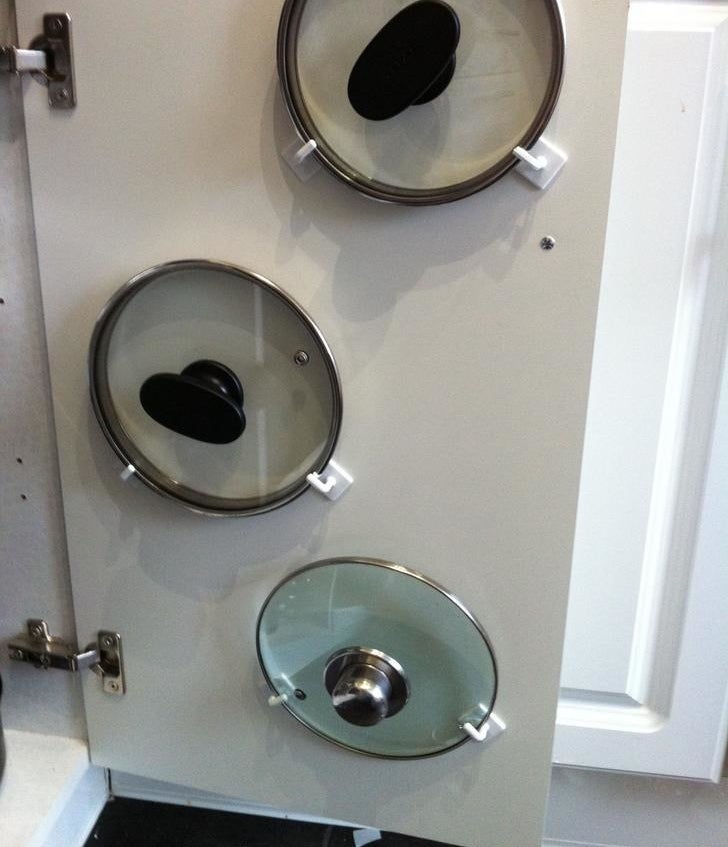 20.
Which reminds us – thumbtacks can help you post up that sunglass collection quite nicely...
21.
And final tip: in-flight entertainment is whatever you want it to be.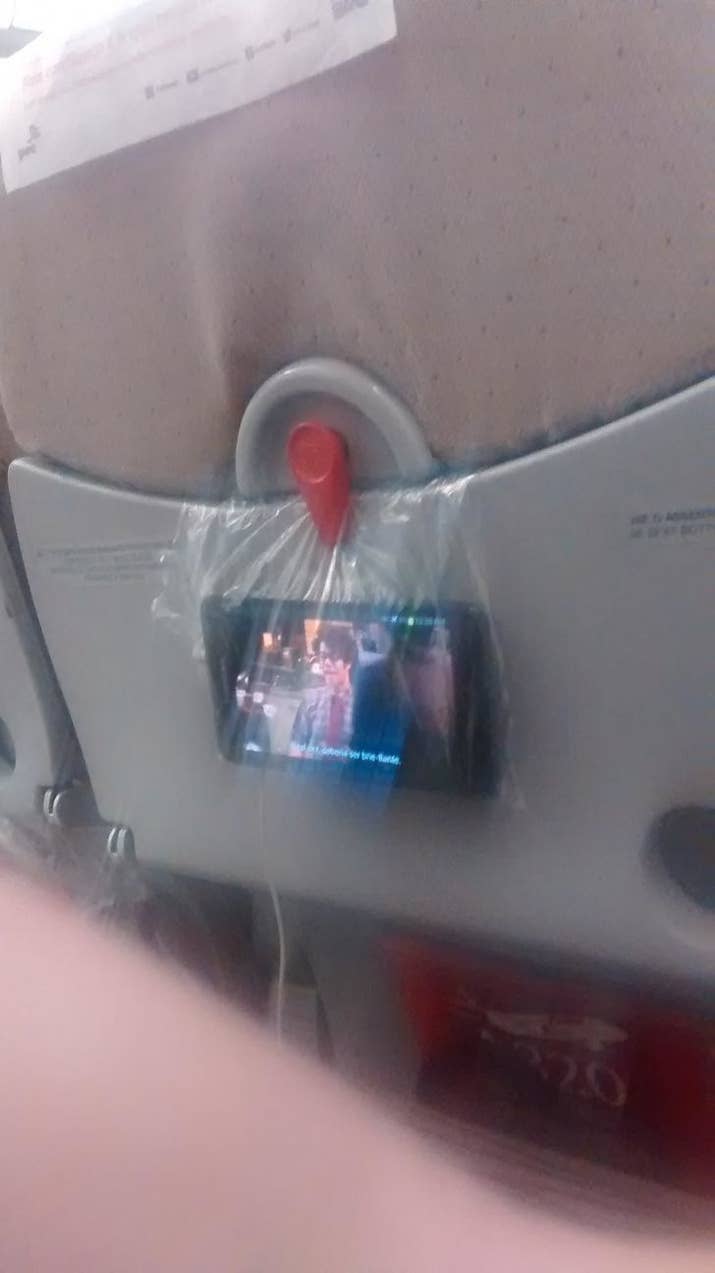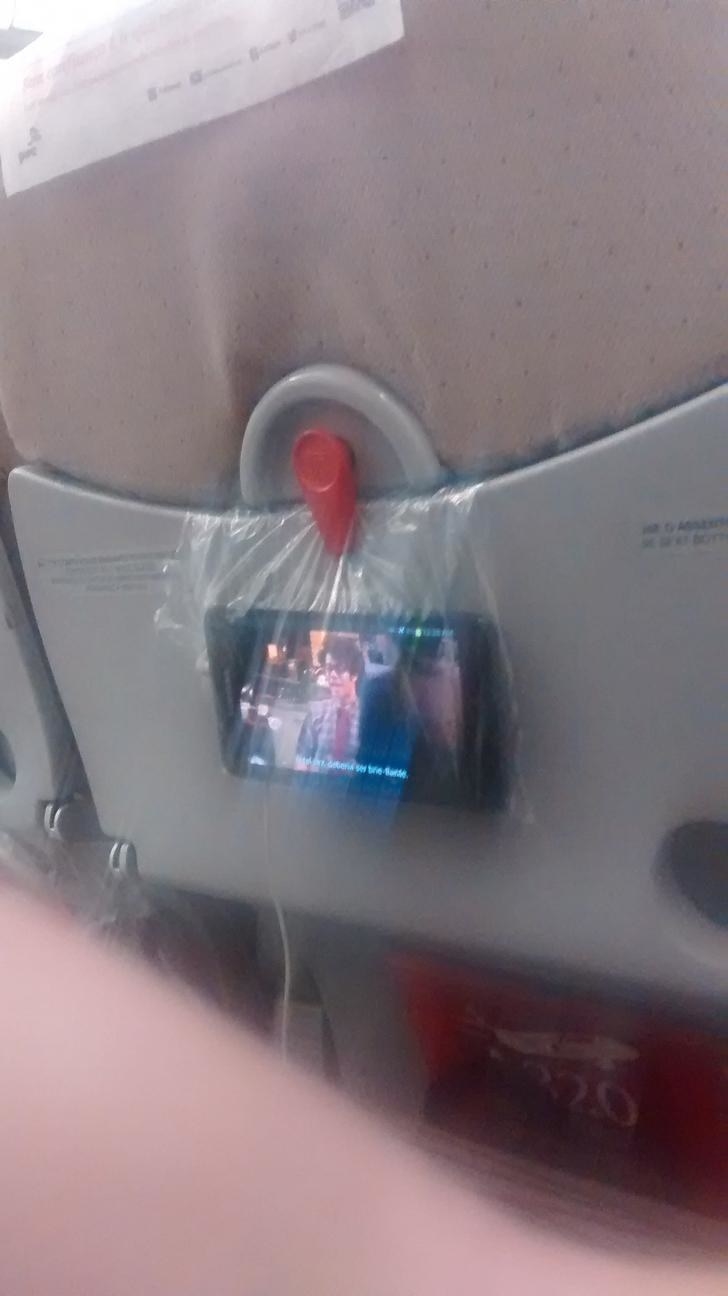 Oreo Candy Canes Are Here
The wait is over! After five long months, Oreo Candy Canes are finally hitting shelves at grocery stores across the country, according to Candy Hunting. If you want to save yourself a trip to the store, they're also available at several retailers online. Here are some of the best deals we found below.
BUY IT HERE: Jet, $4.43 for 1 box of 12
BUY IT HERE: Walmart, $31.75 for 12 boxes of 12
BUY IT HERE: Amazon, $8.69 for 1 box of 12
Stove Top Has The Perfect Solution For Those Who Stuff Themselves On Thanksgiving
While many people likely try to look their best for family on Thanksgiving, the truth is we'd all be happier in clothes we felt comfortable in, especially since we'll be gorging our faces off and tight fitting clothes will just feel worse once the meal is over.
Well, with that in mind, Stove Top Stuffing is now selling the perfect pair of pants for your Thanksgiving meal, and you may want to get them for dad if he's one of those guys who likes to unbotton his belt after dinner.
Stove Top's Thanksgiving Dinner Pants have a stretchy pouch, or what they call a "stuffin'-stretch waistband," that fits over the belly, similar to maternity wear, although they are decorated in a festive stuffing pattern. And you can certainly stuff yourself silly, since they expand to "two-times the original size." Plus they are cheap. They come in all sizes and only cost $19.95. Check out a video advertising Stove Top's pants to the right and click here to buy them.
Source: Daily Press
Phrases To Avoid At The Holiday Meal
With the stress of the holidays and maybe a glass or two of wine, family gatherings can lead to tense moments during dinner conversations. We can't stop someone else from saying the wrong thing, but we can all agree to stay away from certain subjects so things don't get too uncomfortable around the table. Here are some phrases we should avoid at holiday dinners so we can all have a good time.
"You should have…" - The word "should" just makes us feel the judgment and disappointment, so avoid all that negativity and use "could" instead when you can.
"Can you believe what [insert name of detested elected official or political party here] just did?" - You know better than to bring up politics in mixed company, especially at the Thanksgiving dinner table. Unless you're looking for a heated debate, just don't do it.
"The best turkey I ever had was…" - Be a polite guest, not a food critic. Holiday meals are not the time to talk about how a dish could've been prepared better or to compare meals you've had in the past. You're better off focusing on how tasty the meal in front of you is and how much you appreciate it.
"Did you hear about…?" - It's easy to slip into gossip mode, but try to steer the conversation back to something positive instead of dogging cousin Joe who escaped to Florida instead of coming to family dinner.
"When are you going to…" - Try not to make anyone feel defensive or put on the spot and if you're the one in the hot seat, try to deflect with humor and a smile as you change the subject.
"Remember the time you…" - Holiday dinners aren't the time to bring up unflattering stories about loved ones, even if you think the story is hilarious. If someone brings up a mistake from the past, try saying "I'm so glad we can look back and laugh about it now."
Source: Real Simple

Hannah
Want to know more about Hannah? Get their official bio, social pages & articles on Z-100!
Read more