Hannah's Headlines-4/4/2018
Selfies>Sharks
It's no mystery why people are afraid of sharks. "Jaws," "Shark Week," the fact that they are literally evolutions perfectly designed killer… but the truth is, more people die from taking selfies than sharks!
Zachary Crockett over at Priceonomics recently sifted through all the news stories from around the world and broke down the facts and figures into a series of charts that offers a clearer picture of where and how selfie fatalities occur. After searching through 3 years of news stories, he found that 49 people have died from selfies since 2014, that 75% of the victims are male, and that the average age is just 21 years old.
Have you ever injured yourself taking a selfie and what were you doing?
Have you ever witnessed someone injuring themselves taking a selfie, and given that they were okay, how hilarious was it?
https://petapixel.com/2016/02/09/numbers-behind-selfie-deaths-around-world/
Walmart's Selling Its Own Kind Of Dunkaroos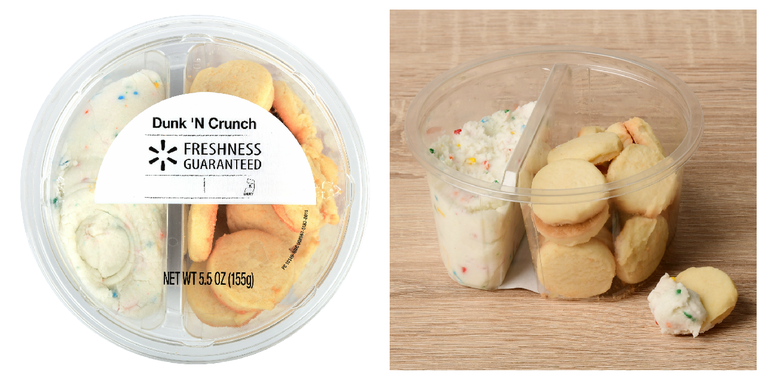 WALMART
The famous '90s treat that made it socially acceptable to eat cookies slathered in frosting as a lunchtime snack is baaaack — sort of. Dunkaroos may have been discontinued in the U.S. ages ago, but one retail giant is reviving the concept.
Instagram influencer Junk Banter recently posted a photo of a grab-and-go snack pack found at Walmart called Dunk 'N' Crunch. Like Dunkaroos, its plastic packaging features two compartments: one loaded with crunchy vanilla cookies, the other with rainbow sprinkles-swirled frosting.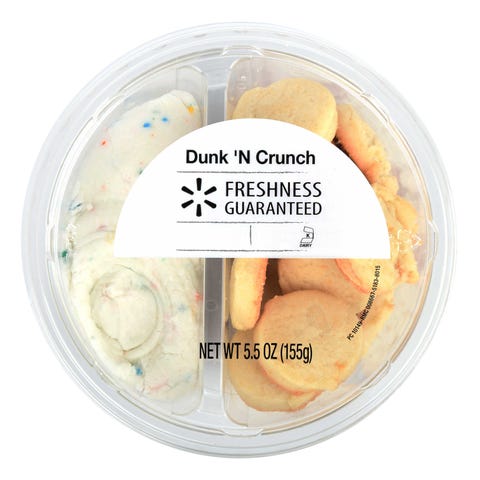 WALMART
Walmart confirmed the snack is in stores, describing it as a "slightly grownup version of your favorite cookie and icing treat of the past." Their version features shortbread cookies, and it's sold in the bakery section nationwide. Each 5.5-ounce snack pack will set you back $2.97. It's a far cheaper price to pay than the $50 you'll shell out to buy a discontinued pack through Amazon — and less costly than a plane ticket to Canada, where the original Dunkaroos are still manufactured and sold.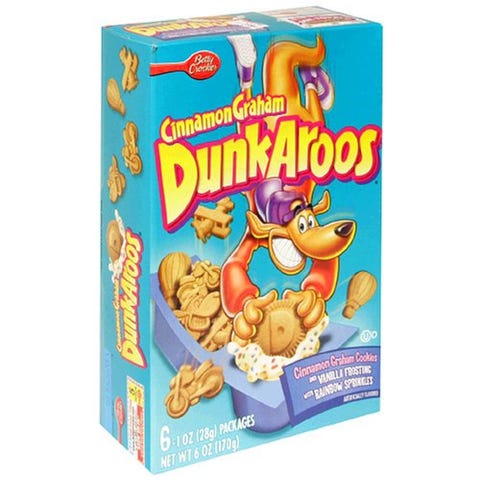 AMAZON
Of course, you could simply buy a tub of vanilla frosting, some sprinkles and a pack of Nilla wafers and go the DIY route (or make our Dunkaroos-inspired no-churn ice cream), but hey, you do you.
Source: https://www.delish.com/food-news/a19641864/walmart-dunk-n-crunch/


People Are Using Pornhub's Comments Section For Advice
People will turn anywhere for advice when they're desperate for some wisdom – even Pornhub. Yeah, I'm super serious. And they're not getting the advice you'd think they'd be getting. Pornhub users have noticed a thread in the comments section from a dude that's just sad and misses his ex to another guy who wants a little cooking help.
And you know what? People actually stepped up and offered REAL advice.
"Hang in there g, only time can help," one user offered.
Another user posted, "Can someone please help me make a nice lasagna for my niece's 7th birthday?" Yup, they got that, too.
You'd think people cruising for good porn would just ignore comments like these, but you'd be wrong.
In fact, the lasagna ask got so many responses, it would be impossible for that guy to have made a bad dish. There are tons of other users asking for advice, too, and you can see them all HERE. If you're already on the site, I guess you might as well reach out to other users for help in your everyday life, right??
Source: Metro
New Book Reveals Which Animals Fart and Which Do Not
If you've ever pondered over which animals fart and which don't, you are now in luck. The book "Does It Fart?: A Definitive Field Guide To Animal Flatulence" delves in to idea of animal farts, which was sparked by a simple tweet.
Co-author Dani Rabaiotti, a zoology student tweeted out a question her brother had asked her: "Do snakes fart?" In fact they do and her co-author Virginia Tech ecologist Nick Caruso saw the tweet and started the hashtag #DoesItFart, which then led to their book collab. The book discusses not only which animals fart, but why. So, which animals fart?
Who farts?

Orangutans, horses, elephants, rhinos, seals, zebras, and cows all pass gas at some point. Herring actually use their farts to communicate with each other and manatees use theirs to remain buoyant in the water.
Who doesn't? Sloths rarely even poop-only every three weeks - and due to their slow digestion they don't fart. Neither do parrots or octopuses.
Who kind of farts? Whale farts have only been caught on camera a few times and salamanders rarely do it, too.
Perhaps the most important question: Did dinosaurs fart? It's possible vegetarian dinosaurs had the gut bacteria for it. Rabaiotti says, "Those animals probably did fart and we're pretty certain that they don't fart anymore."
Source: Vox
Student Saves Drowning Squirrel, With A Little Help From 'The Office'
This squirrel is "Stayin' Alive," in some small part due to "The Office."
Back in Season Five of the hit comedy TV series, Steve Carell's character Michael Scott learns that a good tip for performing CPR is to do chest compressions to the beat of the Bee Gees' 1977 disco hit.
(For the record: It's also recommended by the American Heart Association.)
And it was Carell's hilarious scene that Central Michigan University student Natalie Belsito said she had in mind when she performed the life-saving technique on the critter, which a passerby had rescued from a pool on the Grand Rapids campus as it was drowning.
"Honestly, when I was doing it, I was thinking of the episode of 'The Office' when they do CPR," Belsito, 18, told student newspaper Central Michigan Life. "I was literally singing that song as I tried."
Belsito, who is studying biology wildlife conservation, revived the squirrel and took it back to her dorm, where she wrapped it in towels and warmed it with her hair dryer.
"Seeing the squirrel OK and running up the tree was an amazing feeling, and also having my team there to support the squirrel made it even better," she told HuffPost. Belsito added to the student newspaper that "you gotta do what you gotta do if you're going to save a squirrel's life."
The American Heart Association in 2011 used a public service announcement starring actor Ken Jeong to push "Stayin' Alive," with its 100-beats-per-minute tempo, as the perfect guide for performing CPR chest compressions.
Link: https://www.huffingtonpost.com/entry/squirrel-brought-back-the-office_us_5ac33958e4b00fa46f8cbf5
Experts: one for sure thing can lead to a happier relationship
Relationships are hard, and there's no way around it. You always know there's going to be another argument around the corner somewhere. And usually, it'll stem from whoever cleans the most. Which is why couples are doing this really weird thing to make their relationships happier.
Couples are actually hiring people to do their household chores so that they get in fewer arguments about it. One person doesn't have to do all the cleaning and get upset when the other person doesn't pull their weight. For a lot of couples, paying for a cleaning service is actually a great way to spend their disposable income. And when you're finally making the big bucks with your partner, maybe you should look into it, too.
Make sure you're hiring an ethical service that pays their workers a living wage, though! That can be the toughest part.
Source: Bustle
Family sues fertility doctor who allegedly used his own sperm to help them conceive
(NOTE CONTENT) A woman is suing a fertility doctor who she claims used his own sperm to impregnate her mother, instead of that of the specifically chosen college student donor -- and she has Ancestry.com to thank for accidentally cracking the case. Kelli Rowlette submitted a DNA sample to Ancestry.com back in July 2017, according to the federal lawsuit she and her parents, Howard Fowler and Sally Ashby, filed last week in Idaho's federal court.The results showed something Rowlette did not expect: that she and a man named Dr. Gerald Mortimershared a parent-child relationship.
But Rowlette had never heard of Mortimer and, "initially she believed the Ancestry.com results were in error," according to the lawsuit.Rowlette approached her mother, Ashby, who recognized Mortimer's name and "was devastated."
She told Fowler, her now-ex-husband, and he too was "devastated," according to the lawsuit.The parents conceived their daughter with the help of Mortimer, an OB-GYN, after they approached him at Obstetrics & Gynecology Associates in Idaho Falls, Idaho, regarding their reproductive difficulties, according to the lawsuit. Mortimer recommended a procedure in which 85 percent of Fowler's sperm was mixed with 15 percent from another anonymous donor in order to "increase the chances of conception," the lawsuit states.Fowler and Ashby agreed, but only if the donor was a college student with characteristics similar to those of Fowler, according to the lawsuit. But when he performed the procedure, Mortimer instead allegedly used his own sperm to impregnate Ashby, according to the lawsuit.The lawsuit alleges that Mortimer knew Rowlette was his daughter but did not tell Ashby or Fowler.The basis for this claim? When the family moved from Idaho Falls, Ashby told Mortimer they were relocating to Washington State and he "cried," according to the lawsuit.Rowlette and her parents are suing Mortimer, his wife, Linda G. McKinnon Mortimer, and Obstetrics & Gynecology Associates.Attempts to reach Mortimer, who has since retired, were unsuccessful.

Hannah
Want to know more about Hannah? Get their official bio, social pages & articles on Z-100!
Read more