Hannah's Headlines- 2/4/2019
Eating Breakfast May Now Be Making You Fat
We've all been told how important breakfast is to start your day. Turns out breakfast may not be the most important meal of the day especially if you are attempting to lose weight. 
According to a new study, there's no evidence to support the idea that eating breakfast helps you lose weight or that skipping breakfast leads to weight gain. Researchers found that daily calorie intake was higher in people eating breakfast while skipping breakfast does not cause greater appetite later in the day. 
They believe that people allow themselves more leeway with their diet because breakfast is widely considered an important meal so they have no problem adding those calories to their diets. However, the researchers don't want to discourage people from eating breakfast and say that people should just monitor their calorie intake if they do skip it. 
Source:  New York Post
We Now Know What's Up With That Instagram Egg - People have been buzzing over how an egg can have 10 million followers. And, of course, why it's there.
Now we know. The World Record Egg Instagram account posted photos of it cracking and then last night, Hulu put an end to the mystery with a 30-second episode called "The Reveal." The egg, with drawn on eyes, noted "Recently I've started to crack. The pressure of social media is getting to me." Then it made a direct plea to those watching sharing, "If you're struggling too, talk to someone" before directing viewers to mentalhealthamerica.net .
Mental Health America owns the site and has been around since 1909. They're dedicated to "addressing the needs of those living with mental illness and to promoting the overall mental health of all Americans."
Some internet users felt disappointed, while many applauded the organization for shining a light on mental illness and getting help.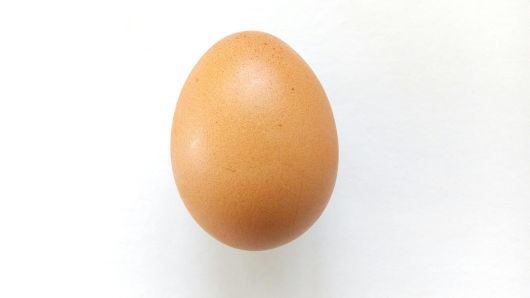 Source: USA Today
Man Sues Parents For Giving Birth To Him Without Consent
We've all been mad at our parents at some point in our lives. However, one 27-year-old guy from India has taken it to another level. Seriously
Raphael Samuel is planning to take his parents to court for bringing him into this world without his consent . He holds a belief called anti-natalism which is that humans are considered a destructive force to the earth and it's wrong to reproduce, especially if the child did not agree to be born.
He wants others to know that there are clearly two options when deciding to have kids, either you do or you don't. Hence, we should ask our parents for an explanation as to why they thought giving birth to us was a good idea.
He also runs a Facebook page where he routinely posts anti-procreation messages like "Isn't forcing a child into this world and forcing it to have a career, kidnapping, and slavery?" or "Your parents had you instead of a toy or a dog, you owe them nothing, you are their entertainment." No word on how potential parents would obtain consent to begin with...but hey, everyone's got their thing...
Source:  OddityCentral
Most Americans Say They're Workaholics
These days it's hard to separate our work life from our home life, which may be why most Americans these days consider themselves workaholics.
A new poll finds that 48% of Americans consider themselves to be workaholics, with 28% saying they work so hard because they have to for financial reasons. Just how much does work seep into our private lives? Well, 58% of workers say they check work email while they are still in bed in the morning, with the average American spending four hours a week working for free, and another four hours thinking about work.
So, how do you know if you're a workaholic? According to the poll, the top sign is that you prioritize your work before your personal life (54%), followed by worrying about work on a day off (51%). Other signs you're a workaholic include:
Struggling to switch off or actually working while on a vacation (50%)
Checking emails in the middle of the night (48%)
Being the first person to get to work and last to leave (46%)
Feeling pressured or too busy to take annual leave (46%)
Working through lunch (45%)
Feeling anxious or lost if I don't check in/know what's happening at work (45%)
Being told by friends/family I work too much (44%)
Checking emails first thing in the morning (39%)
Source: SWNS Digital
10 Things Your Mail Carrier Surprisingly Knows About You
If you don't already have a good relationship with your mail carrier then you might want to start working on that after you learn the ten things they can tell by just looking at your mail.
Some of these are pretty obvious, but if you don't like your mail-person then you might want to change your attitude after you learn they know the following:
They Know About Your Credit Score
They Know About Your Hidden Purchases
They Know the Hobbies You Do
They Know Your Approximate Age
They Know When You're on Vacation
They Know If You're Pregnant
They Know When You Broke the Law
They Know About Big Break-Ups
They Know When You Are Messy
They Know What Type of Pet You Have
( CheatSheet )
Photo Credit: Getty Images

Hannah
Want to know more about Hannah? Get their official bio, social pages & articles on Z-100!
Read more