Hannah's Headlines - 4/18/2019
Pepsi Considering Space Billboards
The soft drink company has been in talks with a Russian space startup to showcase their logo via low-orbit satellites.
The ad would be for their Adrenaline Rush energy drink.
An array of micro satellites will project the company logo with images on his website showing how images might appear floating in the sky.
Experts: See Your New Boo Just Once A Week
The early days of a new relationship are so fun and exciting, we just can't get enough of the butterflies in your tummy feelings. And that's why we want to spend all of our time with this new person who makes us feel so good and glowy. But too much of a good thing isn't always the best thing, especially when it comes to dating someone new.
So before you start ditching Sunday yoga with your besties and Thursday happy hours with your coworkers so you can see more of your new boo, consider this: experts suggest you should only be seeing someone you're newly dating once a week. That may sound crazy when you're head-over-heels and all you want to do is be with your new person, but keeping your regular routine going is important for you and your new relationship.
The "one date a week" rule can help you avoid the problems that crop up when you start skipping out on plans with friends and family to hang with your new love interest. It keeps you from jeopardizing your existing relationships and lets the new romance develop at a slower pace, which can help you spot red flags you might otherwise miss.
TherapistJennifer Silversheinpoints out that limiting dates to once a week also helps soften the blow if things don't work out because you won't have as much invested. Plus, it leaves you wanting more every time, so it's that much more exciting when you do see each other. Eventually, you'll be ready to move past once a week hangs, but at the beginning, let the new person in your life be a part of your life, not take up the whole thing.
Source:Cosmopolitan
Shell On Challenge Is The Latest Stupid Social Media Trend
Kids will do just about anything for social media likes and attention and there's a new viral challenge that has parents and doctors concerned. 
It seems that kids are challenging one another to eat plastic bags or cardboard boxes while posting yourself doing so. A teen from Arizona was recently seen taking a bite out of a plastic bag with carrots in it and then swallowing it. It's the latest potentially dangerous challenges young people are posting to social media, mostly on Snapchat.
It's called the Shell On challenge, and it involves everything from taking a bite out of an unpeeled banana or lemon, to eating food with the plastic wrapping or cardboard packaging still on it.
Doctors are worried about pesticides as well as the plastic wrappings that can put anyone taking a bite out of it in immediate danger. They suggest that parents have a conversation with their children about the dangers associated with this challenge. 
First, we had the Tide Pod challenge and now this.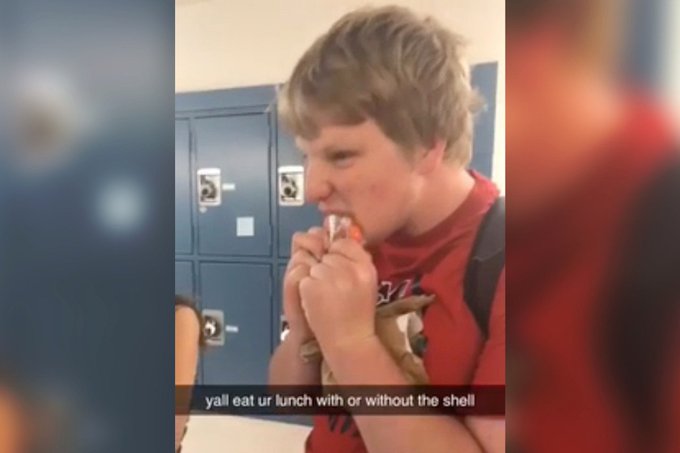 Source: New York Post
The Key To Happiness May Be Spontaneous Travel
While some people will spend months planning a big vacation, others will pick up and head out on the fly, and a new report suggests that if you want to be truly happy, you may want to reconsider being a planner. 
According to Travelzoo's annual Spring Travel Trends Survey, 49% of people who say they are spontaneous travelers consider themselves happy, while only a third of those who aren't spontaneous say the same. This could be because those who are spontaneous are twice as likely to say they can handle unexpected challenges. What's more, those who can pick up and go are also 40% more likely to say they are content and satisfied, and feel connected to family, friends and the world.
While both spontaneous and non-spontaneous travelers cite similar reasons to get away, spontaneous travelers are more likely to be motivated to travel by internal factors like the need to unwind and relax (46%), and the desire to do something special (43%). Meanwhile, those who are planners are more likely to be motivated by external influences, such as visiting a specific place (32%) or attending an activity or event (30%). 
Not surprising, spontaneous travelers are more likely to forgo the normal tourist destinations for unique experiences, with 26% of spontaneous travelers saying they look for unusual and quirky travel ideas, while only 13% of non-spontaneous travelers say the same.
Source:Market Screener

Hannah
Want to know more about Hannah? Get their official bio, social pages & articles on Z-100!
Read more