Hannah's headlines- 2/8/2017
7am
San Francisco To Become First To Make City College Free
San Francisco Mayor Ed Lee announced this week that the city is going to be the first in the country to make City College free for all students - no matter what their income is. "To California residents who are living in San Francisco," He says "your community college is now free."
The funds will come from raising real estate transfer tax for commercial and residential properties valued at over $5-million. The city will guarantee close to $5.4-million a year to City College for tuition of students who live in San Francisco. To qualify as a resident, a part-time or full-time student must live in the city for at least a year and a day.
"Making City College free is going to provide greater opportunities for more San Franciscans to enter into the middle class," San Francisco Supervisor Jane Kim says. "And more San Franciscans to stay in the middle class if they currently are."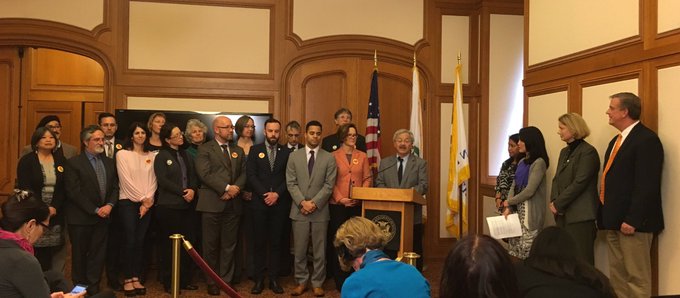 Source: ABC News
New Words In The Merriam Webster Dictionary
There are often debates about "real words." As of now, 'ghost' is also a verb (when one person in a dating relationship disappears on the other) – at least according to the folks at Merriam Webster.
Also newly added to the dictionary? "face-palm" (or smashing your hand to your face in a show of embarrassment), the practice of crashing someone's photo with a "photobomb," and 'humblebrags.' 'Microaggression' is on there, too. So are 'truther,' 'throwing shade' and 'binge watch.' There are one-thousand new entries, in all.
How'd they get chosen? Officials with Merriam Webster note, quote – "All of these words have been observed, collected, and researched, with many examples in context used to write definitions that explain both basic meanings and specific usage."
See the complete list HERE.
Source: Merriam Webster
Today is Clean Out Your Computer Day
February 8th is Clean Out Your Computer Day! Observed on the second Monday in February, National Clean Out Your Computer Day is a day to take some time out of your busy schedule to do needed care on your computers.
Over time, files and programs that are unused on your computer clog the memory and cause confusion during retrieval and use of other files. They may also slow down your computer. So spend time with your computer today - rganize your files and folders, delete junk files, delete duplicate files and delete old files and programs not being used. Good luck!
8am
NJ Closer To Banning Marriages Under Age Of 18
New Jersey could become the first state in the nation to ban anyone under the age of 18 from getting married. As it stands now, 16- and 17-year-olds can say "I do" with their parents' permission.
But now, a state Senate committee has approved a bill that makes no exceptions for having to be at least 18 to tie the knot. The bill already passed the state assembly and now heads to the full senate.
For the record, some 35-hundred minors – some as young as 13 – got married in New Jersey between 1995 to 2012.
Source: NewJersey.com
Job Hours And Duties Could Affect A Woman's Fertility
If you are trying to get pregnant, your job could affect the outcome.
A new study has discovered that jobs that require heavy lifting or odd hours could reduce a woman's fertility. The news is bleeker if you are overweight or obese.
Researchers at Harvard studied more than 470 women undergoing fertility treatment. They found that women whose work involved lifting heavy objects and those who worked in the evening or overnight, as well as women who worked rotating shifts, showed reductions in fertility biomarkers such as egg numbers and hormone levels.
Other studies already have shown detrimental effects of both heavy lifting and shift work on women. The study released this week is published in the journal "Occupational and Environmental Medicine."Source: Live Science
Where Do You Store Your Ketchup Pantry or Refrigerator? This is A Big Debate on The Internet
According to Refinery29, Twitter users have some strong opinions and are bound and determined to figure out the proper placement for this condiment — while sharing some strong words to sway people to their side. Well, there's finally an answer: Refrigerate it — always. "Ketchup no longer contains sodium benzoate and has less salt in it than it used to," says Susan Westmoreland, the Good Housekeeping Institute's Food Director. "Reducing these preservatives makes cold storage a must."
I've always refrigerated my ketchup after opening do you know anyone who keeps his or hers in the pantry?
Link: http://www.refinery29.com/2017/02/139400/ketchup-fridge-or-pantry-twitter-debate