Hannah's Headline- 2/14/2017
Queen Elizabeth II Is Hiring A Social Media Pro
You could be rubbing elbows with royalty in your next job.
If you are great at creating social media posts that "pop," know your way around a video camera and can handle hanging out with royalty, then Queen Elizabeth wants to chat. She is hiring a digital communications officer.
A job placement ad on the Queen's official website says Buckingham Palace seeks a digital communications officer. Published reports say the job pays just under 38-thousand dollars a year. Whoever gets the gig will work less than 40 hours a week and will be required to use various Internet platforms like Facebook and Twitter and maintain the Queen's presence in the public eye.
You have to be university educated, have experience managing websites and have good photography and video skills.
Hurry and apply! The posting shuts down at midnight. To apply, head HERE.Source: Queen Elizabeth II Official Website
Prince Items Are Up For Auction
In one of the first big sales of the late singer's items, some of Prince's coolest clothes are up for sale.
Some of the memorabilia you can get your hands on includes the beaded jacket he wore in the 1986 film "Under the Cherry Moon," a black-and-white-striped bolero jacket designed for a 1993 tour of Europe; a document he signed to play The Kid in "Purple Rain," and handwritten lyrics for "The Screams of Passion."
Boston-based RR Auction is handling the sale. It wraps up Thursday. Source: Page Six
Amazon Has Your Back If You Forgot Valentine's Day
It's Valentine's Day, and if you forgot about getting a gift for that special someone, Amazon has got you covered…if you're in the right city, that is. The website is offering one-hour rush delivery through Amazon Prime so you can get those flowers to your new boo right away.
Prime lets you order way more than just flowers, though. Whether you're 10 years deep or 10 minutes into a relationship, the service lets you order candy, cards, bottles of wine…even dinner. The service spans 30 cities nationwide to Prime members.
Guys, this is perfect for the girl who decided this morning that yes, you are her boyfriend. Sorry, you're locked in now!
Source: Refinery29
This is Why It's Better to Be Single, According to Science
Single people value meaningful work more than married people and they're also more connected to their parents, siblings, friends, neighbors and coworkers, according to Bella DePaulo, a scientist at the University of California, Santa Barbara who researched the topic for a 2016 paper. "When people marry, they become more insular," DePaulo explains.
And if you're independent, you're even better off. DePaulo found that self-sufficient single people who were analyzed for a lifelong study were less likely to experience negative emotions. The opposite was true for married people.
Plus, there are more single people out there than ever before. DePaulo points out that, according to the Bureau of Labor Statistics, there were 124.6 million unmarried Americans over the age of 16 — that's a little more than half. In 1976, just 37% of the population was single.
"More than ever before, Americans can pursue the ways of living that work best for them. There is no one blueprint for the good life," she concludes. "What matters is not what everyone else is doing or what other people think we should be doing, but whether we can find the places, the spaces and the people that fit who we really are and allow us to live our best lives."
Link: http://www.cosmopolitan.com/lifestyle/a8775819/benefits-of-being-single/


Playboy Magazine Bringing Back Nudity
Nude women will once again grace the cover of "Playboy" magazine. The company made the announcement, more than a year after nixing nudity. Chief creative officer Cooper Hefner took to Twitter to say – quote: "Today we're taking our identity back and reclaiming who we are."
The son of Hugh Hefner added that nudity was never the problem, although they did portray it in a "dated" way. Fittingly enough, the March/April issue cover has the headline "Naked Is Normal."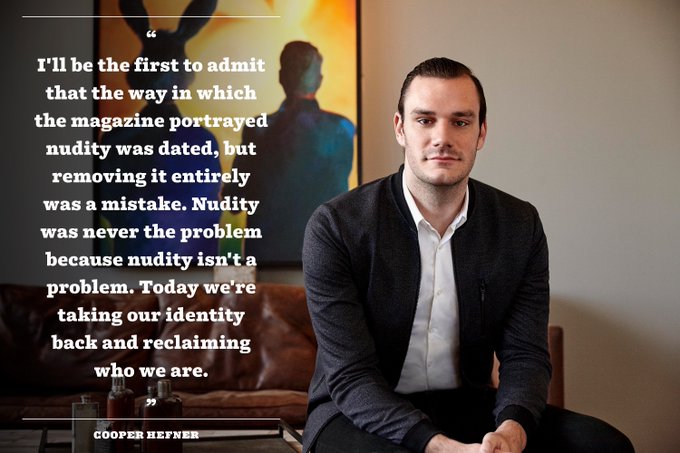 Source: USA Today
Now There's An App To Find Mom Friends
Moms know that the struggle to make new mom friends is real. It's hard enough just getting out of the house with your little ones and striking up a conversation with a mom you meet out can be as awkward as a first date. But someone created an app called Peanut to connect moms with other potential mom friends nearby – like Tinder is for dating, but hopefully without all the unsolicited naked pics.
Peanut is free, it just came out in beta form for iPhone users and it works by connecting to your Facebook profile to grab photos, location, and occupation to create your profile. That makes set up fast, but if you don't like a certain goofy photo, don't worry - you can edit it. The app is made for moms with kids up to 16 and pregnant mamas-to-be and it asks you about your kids ages, which could be handy for play dates.
You get to choose three badges to describe yourself, so other moms get an idea of who you are. There are fun choices like "Hot Mess," "Spiritual Gangster," "Mom Boss," and "Sleep Deprived." And there are badges that will help you find like-minded moms, like "Fitness Fiend," "Bookworm," and they have badges for single mamas and moms of special needs kids.
Then you swipe through moms to try to connect and when you see a potential pal, you "wave" to each other and once you do, you can start messaging each other. You can also do group chats and create events to meet up in real life. Since taking care of kids can leave you feeling isolated, this could be a better way to meet friends than trying to talk to strangers at the park.
Source: Scary Mommy