Hannah's Headlines- 2/24/2017
Months Long Cloudflare Leak Affects Several Popular Websites-A major content delivery network says a bug in its software has caused sensitive data to be leaked from customer websites. Cloudflare says data including passwords, cookies, and authentication tokens were leaked.
A Google security researcher found the leak, which started in September, last week and immediately reported it. Cloudflare has now fixed the problem, but the damage is done.
The service offers enhanced security and performance for more than five-million websites. Some of the popular apps an sites affected include Uber, 1Password, FitBit, and OKCupid. Among the info spilled onto the internet; "private messages from major dating sites, full messages from a well-known chat service, online password manager data, frames from adult video sites, and hotel bookings."
Though no customers of the affected sites have been notified…and we don't have a full list of the sites leaking data… experts recommend you change all passwords and monitor your credit report.Source: Fortune
You Can Now Vet Your Surgeon Before Going Under The Knife-In a world where vetting everyone in your life is the norm, finally we can check out our surgeons.
About 250-thousand Americans die each year from preventable medical errors. Now, a nonprofit group has developed a rating system for surgeons, to help you reduce the risk of life-threatening medical errors.
The group Consumers' Checkbook has compiled ratings for over 50-thousand surgeons, based on the outcomes of five-million procedures nationwide. The surgeons are rated on heart bypass surgery, knee replacements and ten other high-risk operations at SurgeonRatings.org.Source: CBS Philadelphia
Man Sends Girlfriend $1,400 Bouquet
Who needs flowers when you can get money instead? One creative and rich man in China sent a bouquet out of money for his girlfriend. In case you missed it, he had a florist take individual bank notes and roll them up to look like flowers.
The gesture has gone viral and the results are mixed. While some it's "humiliating" and not romantic at all, others point out unlike flowers, money won't die in a week.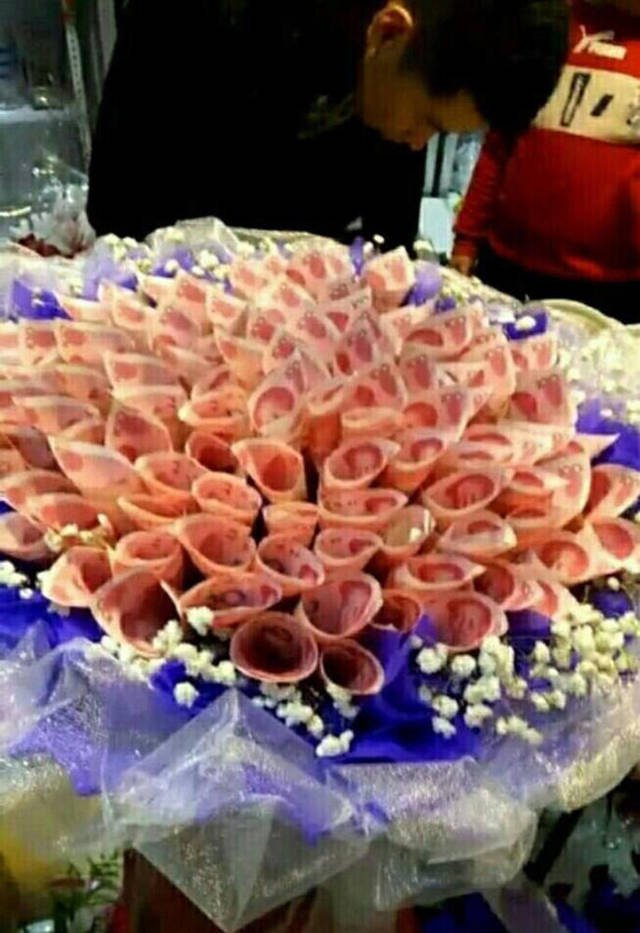 Source: Shanghaiist
Google Is Trying To get Rid Of Internet Trolls
Google joins the ranks of Facebook and Twitter in trying to figure out how to solve the problem of Internet trolls. You know, those people hiding behind accounts with eggs for profile pictures who usually have nothing good to say.
Created by Jigsaw, this program will monitor conversations in the comment sections of your favorite publishers and will actively ask Internet users to rate comments on a scale of "very toxic" to "very healthy." In other words, you'll be able to finally report and filter comments in real time. You'll be able to filter the comments in any given forum by sliding a bar to reveal what level of "toxicity" you want to see.
So no, toxic comments won't be deleted. Instead, you just get to filter what you want to see. "New York Times," "The Guardian," and "The Economist" are just three publishers who are already using the tool.
Here's to not letting trolls get you down.
Source: Mashable
Girl Scout Cookie Donuts Are Here
If you have a sweet tooth, get ready to put it to good use this weekend because Girl Scout Cookies are officially here. Doughnut shop Broad Street Dough Co. has been transforming the cookies to donuts and serving them up for everyone who wants a little bit of both worlds.
Cookies + donuts = ultimate happiness, right? The donut shop is located in Oakhurst, New Jersey, and they make a Samoas donut, Thin Mints donut, and a Tagalongs donut!
You might be thinking, "Okay so how much like the real thing do these donuts taste?" Answer: everything! The donuts aren't just topped with cookie crumbles. They actually taste like the cookies.
These won't be around forever, though. According to Cosmo, Desdemona Dalia — owner of the shop —says she buys a couple thousand boxes of cookies at the beginning of the year and the haul usually lasts until July.
Enjoy!
Source: Cosmo
Things Are Looking Up For The Tooth Fairy
Sounds like kids are raking in the dough simply for losing their baby teeth. According The Original Tooth Fairy Poll conducted by Delta Dental, the Tooth Fairy is being quite generous lately, with kids getting an average of $4.66 per tooth in 2016 and early 2017, as compared to only $3.91 in 2015. That's a nearly 20% increase, and a new all-time high.
The Tooth Fairy handed out $290.6-million for lost teeth last year, which is up 13.5% from 2015. And kids who lost their first tooth are doing even better than the norm, with parents paying out about $5.72 for that first loss, up 10% from last year.
Overall, 85% of homes with children get a visit from the Tooth Fairy, with 89% of kids getting money for their teeth. Not every kid gets their treat right away though, with 56% of parents admitting the Tooth Fairy sometimes forgets to visit on the first night. And not every Tooth Fairy leaves behind money. Believe it or not, 38% give their kids toothbrushes for a lost tooth, while 22% give them toothpaste and 21% give them floss.
Of course a child's gift does vary depending on location. It seems the Tooth Fairy is most generous in the West, paying an average of $5.96 for a tooth and $6.89 for the first tooth, followed by the Northeast, with an average of $5.08 per tooth, $6.31 for the first tooth.
Source: The Street