OJ Simpson Could Get Out This Year
Things are looking good for OJ Simpson to get out of jail this year. The former NFL star has a parole hearing in July. Since he's been determined to be in the low-risk category for release, The Juice could be loose as soon as October 1st.
While Simpson was famously acquitted for murdering his ex-wife, Nicole Brown Simpson, and her friend, Ron Goldman in 1995, he was later convicted for his role in a 2007 memorabilia robbery. The charges against him include kidnapping, armed robbery, and assault with a deadly weapon. He's currently serving a nine-to-33 year sentence in a Nevada prison.
We'll keep you posted…
Source: CNN
Ben & Jerry's Introduces Cereal Milk Ice Cream
Are you one of those people who slurp up every last bit of milk at the bottom of your cereal bowl? And do you love ice cream as well? Well, Ben & Jerry's just introduced a product that is perfect for you.
In honor of National Cereal Day, which was yesterday, the company just launched "Cereal Splashbacks," ice cream inspired by the milk left behind in your cereal bowl. The product comes in three flavors, Fruit Loot (which is Froot Loops flavored), Frozen Flakes (i.e. cornflake milk), and Cocoa Loco, which is cocoa-puffed flavored, with all three featuring swirls of their corresponding cereal.
According to Ben & Jerry's "Flavor Guru" Eric Fredette, "Cereal Splashbacks" are designed to bring folks "back to the prize-at-the-bottom-of-the-box days, watching Saturday morning cartoons in pajamas."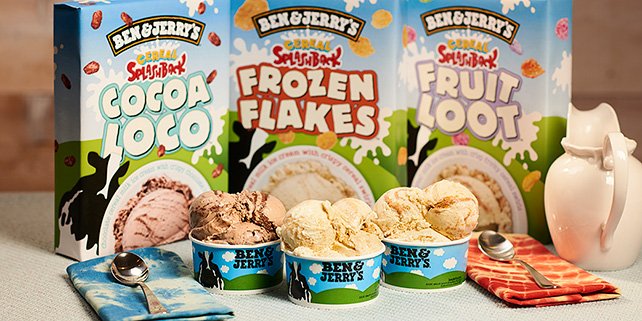 Source: Today
Today is International Women's Day
March 8th is International Women's Day! International Women's Day! The first IWD celebration took place in 1911. More than one million people in Austria, Denmark, Germany, and Switzerland attended rallies and events to campaign for women's rights and to end gender discrimination.
Today, International Women's Day gives us an opportunity to recognize all of the economic, political, and social achievements women have accomplished throughout history. In the fifteen countries where it is an official holiday, IWD is similar Mother's Day. People honor their mothers, wives, friends, and colleagues with flowers and small gifts.
Today is Be Nasty Day
March 8th is Be Nasty Day. Nasty is synonymous to being not nice, and that's the reason why most people would be thrilled if you choose to skip celebrating this day. If, however, you are bound and determined to be 'nasty' today, please remember that there's a huge difference between being 'not that nice' and being cruel.
And really, there's enough ugly in the world today – so why not skip being nasty today? Or if you really want to be 'nasty' – choose instead to skip your shower for a second day…or something that doesn't affect other people.
People Are Dunking Their Pizza In Milk
Dunking pizza in a glass of milk sounds straight out of a nightmare, but because we live in 2017 and everyone's addicted to Twitter, it's actually the perfect recipe for a viral trend. It started out as one photo and has quickly become one of the most debated topics on the website. So, is dunking your pizza in milk actually delicious or down right disgusting?
One user says "pizza + milk = a great combination" while others are totally against it saying, "Why would you ever disrespect pizza like this?"
Still, we can't help but think people are just doing it for the retweets. Who really eats pizza with milk? This could be the biggest debate since whether or not pineapple belongs on pizza.
Source: Seventeen
The Best Country In The World Is…
Have you ever stopped to wonder what's the best country in the world? Well, thanks to a new ranking of the Best Countries by the "U.S. News & World Report," we now know the answer.
So, which country is the best? Well, the report hands Switzerland the top spot, mostly because of its progressive social systems, their record on protecting human rights, and their business-friendly environment.
And while most Americans would likely expect the United States to be on top of the list, or at least fairly high up there, it actually doesn't even rank in the Top Five. After landing at number four last year, the U.S. drops to number seven for a variety of reasons - dropping in categories like citizenship, transparency, education and more. The one place it does remain number one, however, is on the "Most Powerful" list, with Russia and China right behind them.
Top Ten Best Countries In The World
Switzerland
Canada
United Kingdom
Germany
Japan
Sweden
United States
Australia
France
Norway
ONE MORE THING! If you're thinking the presidential election may have played a role in the rankings, it is distinctly possible. Of those surveyed, 75% say they lost some respect for U.S. leadership after the election. The survey also finds that global support in our election was behind

Hillary Clinton, with the Democratic candidate getting 60% of the global vote. As for where President Trump

did the best, well, that would be in Russia, where he would have received 83% of the vote.
Source: U.S. News & World Report
Top Careers For 2017
Deciding on a career isn't always easy, and while it's nice to follow your dreams, let's face it - they won't always make you happy once that paycheck rolls in. Well, CareerToolkit.com is out to try and help job seekers make the best decisions when it comes to employment, and has just come out with their list of the Top 100 Careers for 2017.
The site determined their rankings based on things like salary, salary potential, job outlook, employment numbers, changes in employment, and the typical education required to start the career. And while you may think you'll need a higher degree to get the best jobs out there, of the Top Ten careers, seven required only a Bachelor's degree to nab the job.
The site finds that overall, the best career out there is personal financial advisor, followed by computer and IT manager. In more specialized fields, physician tops the list for health care careers, while geoscientist is top for science careers, a biomedical engineer is the top engineering career, producer/director is the top creative/media career and attorney is the top social services career.
Top Ten Overall Careersclick here for the complete list
Personal Financial Advisor
Computer and IT Manager
Physician
Software Developer
Management Analyst
Dentist
Financial Manager
Computer System Analysts
Nurse Practitioner
Medical and Health Services Manager
Source: CareerToolKit.com