Hannah's Headlines- 11/17/2017
This Flamin' Hot Cheetos Turkey Is The Insane Dish You Need This Thanksgiving
Thanksgiving is all about tradition – regardless of whether you celebrate it with the same family members every year, go the Friendsgiving route, or like to switch it up, the food more or less stays the same. Everyone has a favorite dish they wait around all year for, be it a green bean casserole, sweet potato dish, or certain kind of pie. Those dishes can and should stay put.
Turkeys, on the other hand, deserve to be played with. Over the years, we've seen the deep-fried turkey, the turducken, and even pickle-brined turkeys have their moment. This year, Reynolds Kitchens developed what might be the most millennial turkey you could think of ... your grandma might hate it, but your Instagram followers will go nuts.
The Flamin' Hot Cheetos Turkey turns your bird bright red, and is actually pretty easy to make. Here's how it works: First up, grab a few bags of Flamin' Hot Cheetos. Crush them up in a food processor, or place them in a zip-top bag and smash them with a rolling pin. Brush the turkey with oil or butter, then coat with the crushed chips.
Add a teaspoon of flour to an oven bag (Reynolds makes a BPA-free one made of nylon-resin instead of plastic), then place the bird in the bag and into a large roasting pan. You'll want to close the bag with a nylon tie and make 1/2-inch slits in the bag (about six will do) before putting it in the oven.
For a slightly more traditional-looking turkey – with an equally crazy flavor – Reynolds also created recipes for a Funyuns Turkey and a Cool Ranch Doritos Turkey. The birds get the same treatment as the Cheetos recipe, but can be cooked with tin foil instead of an oven bag, either by wrapping the entire turkey in tin foil or making a foil tent over the turkey before cooking. Both methods help keep the turkey from drying out or browning too quickly in the oven.


It's come to this: People can rent parked private jets just for Instagram snaps
While rapper Bow Wow learned the danger of pretending to fly private -- he was flamed online when someone snapped him in coach -- others are going the other way: pretending to fly private ... by Instagramming in parked private jets. The professional version of leaning up against a fancy car for a picture, Russia's Private Jet Studios will charter a private plane for you to pose in, complete with food and champagne, all for the U.S. equivalent of $230 bucks or so.
French Gym Has Hours For Naked Workouts
If you like doing normal everyday stuff while not wearing any clothes, it seems like Paris is the place for you. The French capital recently opened a clothing-optional naturist area in the city's largest park and their first naked restaurant - where diners strip down before dinner - just opened their too. And now those who want to work out in the buff have a gym to do it in.
The fitness center is offering naked time weeknights from 9-11 p.m. and according to a Reddit forum, most of the nudist gym goers have been men, between the ages of 20 and 70. Women are welcome, too, but there haven't been too many of them coming in for a sweat sesh in the buff.
This gym is located in the same building as the Roger Le Gall pool, which also allows naturists in at night and has other naked activities, including yoga. But as freeing as it might be to let it all hang out when you're getting your fitness on, it's got to be distracting to be in a yoga class behind a naked guy, no matter how zen you are.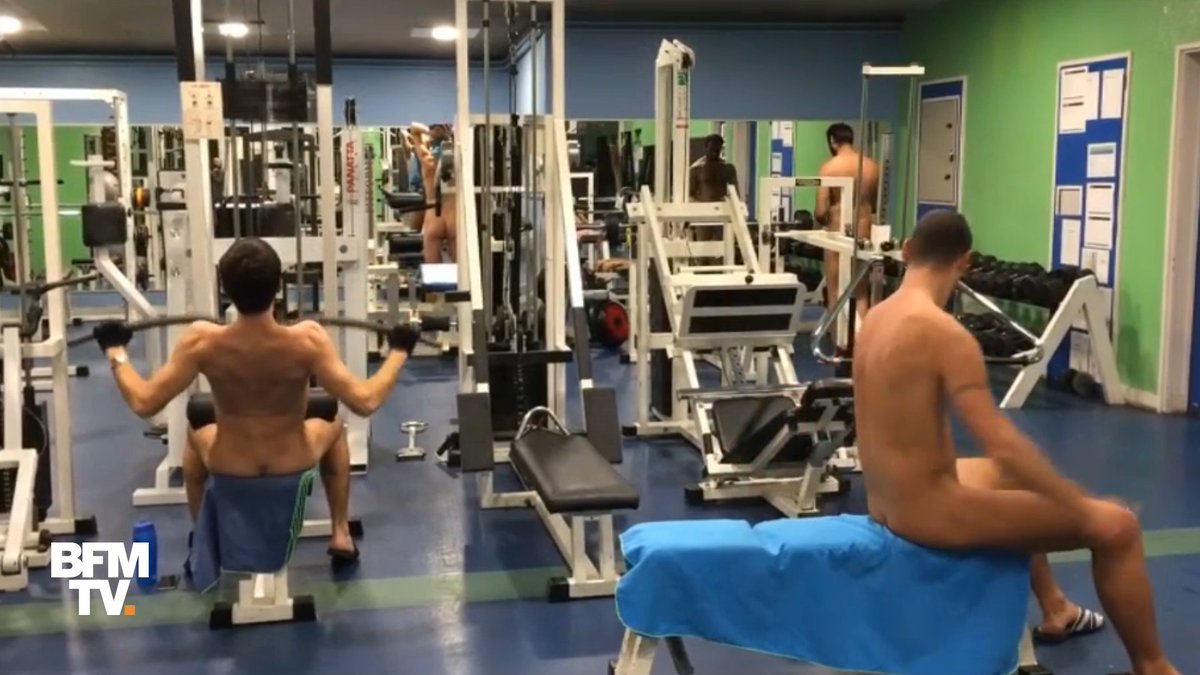 Source: Whimn
Apparently Iowans Eat Pop-Tart & Cold Cheese Sandwiches, The Internet Is Disgusted
What the hell are Iowans doing?
Chris Jorgensen is a student at Iowa State University, and gave us a glimpse into what a true Iowan snacks on: Pop-Tart cheese sandwiches.
With a caption that read, "You ain't from Iowa if you never had one of these," Jorgensen's tweets showed slices of American cheese in between two frosted Pop-Tarts.
Rage Rooms Are All The Rage In L.A.
There's a trendy new way to get your mental health under control.
"Rage Rooms" are all the rage in Los Angeles. The rooms are used for a new form of therapy and allows those inside to let out some anger by smashing anything from glassware, plastic, aluminum, wooden objects, to even concrete cinder blocks using sledgehammers, bats and metal pipes.
Business is booming for Rage Ground, which opened a few months ago and offers a deal that allows customers to bring their own things or an ex-lover's stuff to smash. People fresh off a divorce make up a good portion of the customer base.
Rage Ground says it is offering a different form of anger management. Each client is given safety equipment just in case.Source: NBC 4 Los Angeles
Best of Craigslist
Sexy woman I conversated with outside of Tobacco Outlet - m4w
You are the sexy woman I conversated with today that was sitting in a chair outside Tobacco Outlet smoking a cigarette while waiting for your cab. You were telling me that you had a heart attack and didn't even know it and that you were stinted. Unfortunately, I had to leave abruptly after an inconsiderate driver honked at me because they wanted my parking space and I was forced to cut our wonderful conversation short. I didn't notice a ring on your finger, and am hoping you are single like I am. I'd like to continue our conversation over dinner sometime. Though unlikely, I really hope that you see this and contact me via the craigslist email system. Change the subject line to what you asked me that started our conversation. Kisses, sexy.
Blue eyes - w4m
It was always your eyes that attracted me to you. They drew me in with this sad look. Like a wounded little puppy I could help. Now I know better. You're not a wounded little puppy, but more of a beaten down abused old dog. Lashing out biting and growling at anyone who tries to get close to you. I should be angry for the way you treated me, but I just feel sorry for you. It's almost like you don't know any better. Most people don't break someone else apart because they hurt. Someone else hurt you so bad that you broke inside. After everything, I still want to help even though I should run. Just know this. You can try to fake a smile, laugh, and put on a cocky front, but you cant change your eyes. They can't lie! They show, you are broken. I see through your bull to your broken soul. If you want to talk, here I am.
Beautiful Blonde - m4w

(Winona)
To the beautiful blonde who drives the silver Durango. Last week, I followed you to Bloedow's Bakery, where our eyes met and you flashed me a sexy smile, just as you bite into a delicious Bloedow's cinnamon roll topped with bacon. I would love to talk and get to know you. Tell me the color my shirt I was wearing so I know you are for real :-)

Hannah
Want to know more about Hannah? Get their official bio, social pages & articles on Z-100!
Read more