Hannah's Headlines- 4/13/2018
Study: Night Owls More At Risk Of Bad Health, Early Death
A new study says people who stay up late are more likely than morning people to suffer a variety of health problems and die sooner. Researchers from Northwestern University tracked nearly half a-million adults, including morning people and night owls, over more than six years.
Those who routinely stayed up late were ten-percent more likely to die sooner than the folks who got to bed early. The night owls also were more likely to have diabetes, neurological disorders, psychological problems, digestive issues, and trouble breathing. The study is published in the journal "Chronobiology International."
Source: Live Science
Pet Behaviors Can Be Treated With Therapy - Taking your dog to a therapist is not as crazy as you might think.
Actually it's estimated that 10 to 15 percent of pet owners say they could use some help with pet behavior issues. Kaitlyn Thomas with K-9 Turbo Training in Michigan says that if your dog is very stressed and can't process even the most basics of training, it might be time to call the doctors.
Just like for people, there are medications for pets that can calm anxiety and help your pooch to focus better. Thomas says this can help the dog train better and just be happier overall. Source: MetroSource


Social Media In Huge Debate Over Mayochup
Are you someone who loves to mix your ketchup and mayo? Well, now there's a product that does that for you, although it's getting very mixed reviews on social media
Heinz has introduced a new product they're calling Mayochup, which is exactly what it sounds like Heinz mayonnaise, combined with Heinz ketchup. Right now the product is only being sold in Middle East states, but the company is holding a vote as to whether it should be introduced in the U.S.
Fans have until Sunday to cast their yay or nay vote, but Heinz says it will only bring the product stateside if it gets 500,000 yes votes.
But while we'll have to wait until this weekend to find out if we'll get the product, folks on social media aren't holding back with their thoughts. Many folks divided on whether the condiment is brilliant or disgusting, with some noting that it's actually not a new invention, because it sounds just like fry sauce, which is popular in states like Idaho and Utah. Others don't see the point, because it will just add one more condiment bottle in their fridge.
Reports of a "tiger on the loose" in New York City turned out to be a raccoon
A New Yorker's daily exposure to the animal kingdom consists of mainly pigeons and rats, so perhaps a mistake like Thursday's can be forgiven.
It was just before 8 a.m. when police said several callers to 911 reported spotting a tiger in the street near West 162 Street and St. Nicholas Avenue in the Washington Heights neighborhood.
The NYPD's Emergency Service Unit was called, and found the errant beast -- and found the report to be an error: the animal that police safely caught turned out to be a large raccoon.
Animal Care Centers of New York City took custody of the raccoon from the NYPD and put it down. The law requires it.
"The raccoon was brought into our facility and was euthanized as required by law for all vector species animals brought into the shelter," ACC said in a statement.
"Raccoons, bats and skunks are classified as a rabies vector species, which means it's an animal that can carry and transmit rabies," the statement read.
Study says bathroom hand dryers blow poop all over you
The idea behind hand dryers in public bathrooms was that they were supposed to be more sanitary than paper towels, but a new study shows they're anything but: in fact, they spray particles of poop all over you.
So says a new report published in Applied and Environmental Microbiology.
As the dryers do their thing, they suck up air from around them -- which means aerosolized particles of feces that have been blasted in the air by the flushing of usually lidless public restroom toilets hitch a ride, and fire onto your wet hands and everything else at gale-force speed.
Researchers Luz del Carmen Huesca-Espitia, Jaber Aslanzadeh, Richard Feinn, Gabrielle Joseph, Thomas S. Murray, and Peter Setlow agreed that more testing needed to be done on the machines themselves, to see if they house colonies of bacteria that could also spit out on you.
Maybe it's just best to wash your hands well after using the bathroom, and follow Taylor Swift's advice and just shake it off.
Explorer To Donate Amputated Toes To Bar For Cocktail
A British explorer is donating his amputated toe to a bar that serves cocktails with preserved human toes as garnish. Nick Griffiths had participated in the Yukon Arctic Race in February, but his race was cut short when he had to be transported to a hospital for frostbite. Turns out he needed three of his toes amputated. Griffiths then asked if his toes could be sent off to the Downtown Hotel in Dawson City, Yukon to make their signature drink: the Sourtoe Cocktail.
The hotel bar has been serving the cocktail since 1973. It includes a shot of whiskey with a shrunken human toe. They've reportedly preserved 10 dismembered toes, which are also displayed on its Wall of Fame, each toe with its own story behind it. About 100,000 patrons have ordered the Sourtoe, according to the bar.
There are only two rules for drinking the cocktail:
One, you can't swallow the toe - which has happened resulting in a $500 fine.
Two, bartenders tell patrons "you can drink it fast, you can drink it slow, but your lips much touch the toe."
Griffiths told his surgeon what he wanted to do with his toes and he says the surgeon found it "quite amusing." Nevertheless, the hospital gave him his toes in three small jars so Griffiths can send them on their way- if he can figure out a way. He jokes, "The only problem is I'm not sure you can just send amputated toes through the post."
Source: Mirror
North Carolina restaurant serving up 'tarantula burger'
DURHAM, N.C. – Sometimes you can't say "nope" enough.
But for whatever reason, one Durham restaurant is saying yes to a "tarantula burger."
Bull City Burger and Brewery is serving up the dish in celebration of Exotic Meat Month.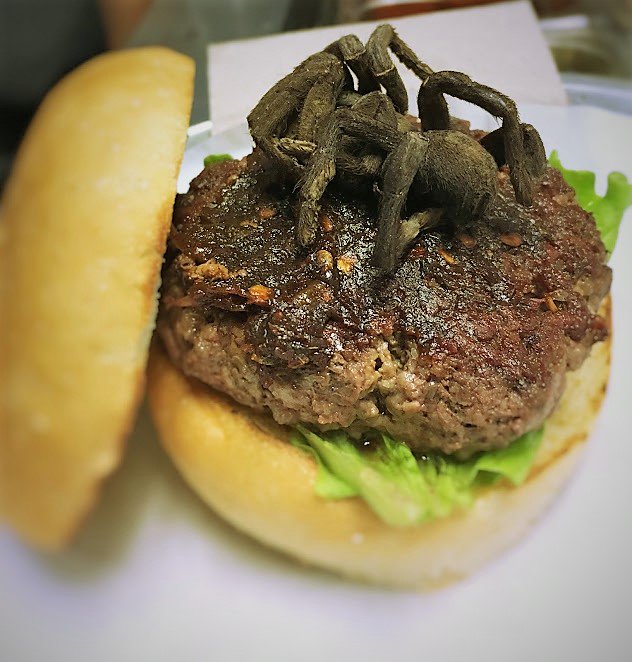 The only way to get ahold of the eight-legged beef sandwich is by winning the Tarantula Challenge.
The burger costs $30 and includes a pasture-raised North Carolina beef burger, gruyere cheese, an oven-roasted tarantula and spicy chili sauce.
Participants can sign up for the limited challenge in the restaurant. Then, they have to watch Facebook, Twitter and the Bull City Burger and Brewery website to see if their ticket is drawn.
If the selected participant eats the entire burger, they'll get a free t-shirt.
FILED IN: NEWS

Hannah
Want to know more about Hannah? Get their official bio, social pages & articles on Z-100!
Read more